The Art of Terrariums
Summer Series 2020
The Art of Terrariums
An Instagram Live Event!
We're getting ready for the third event of our Summer Series featuring the art of terrariums. So mark your calendar and join us for our upcoming live event featuring a hands-on terrarium tutorial, an intriguing, mossy-green cocktail, and music to keep you moving provided by our guest DJ.
We're going
live
at 4pm on Friday, July 17.
Did you miss the previous Live events? Check them out
here
.
Visit our
Mixcloud page
for playlists to get your garden groove on.
Browse the supply list so you have everything ready to create your own indoor garden right along with us.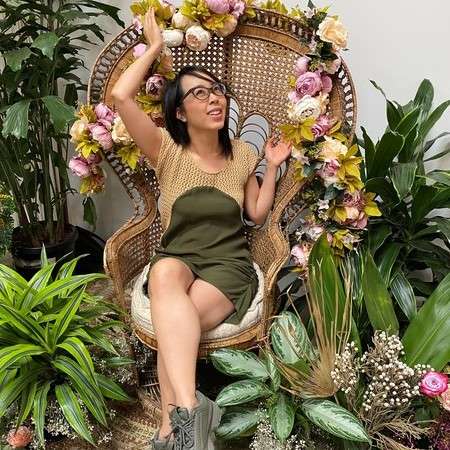 Shake. Shake. Make.
Our guest DJ this week is Lani Love, known for her eclectic and curated collection of music, including hip hop, R&B, and Disco. After a gig as an internet radio music director in Southern California, she started her adventures as a club DJ in New York City in 2007. Lani now DJs in Chicago, Los Angeles, and San Francisco—and she Loves to make you want to get out there and shake your groove-thing.

And bonus, Lani is a phytophile. Yep, you heard that right. She loves plants!

Listen alongside Lani, as you create your terrarium and enjoy your cocktail.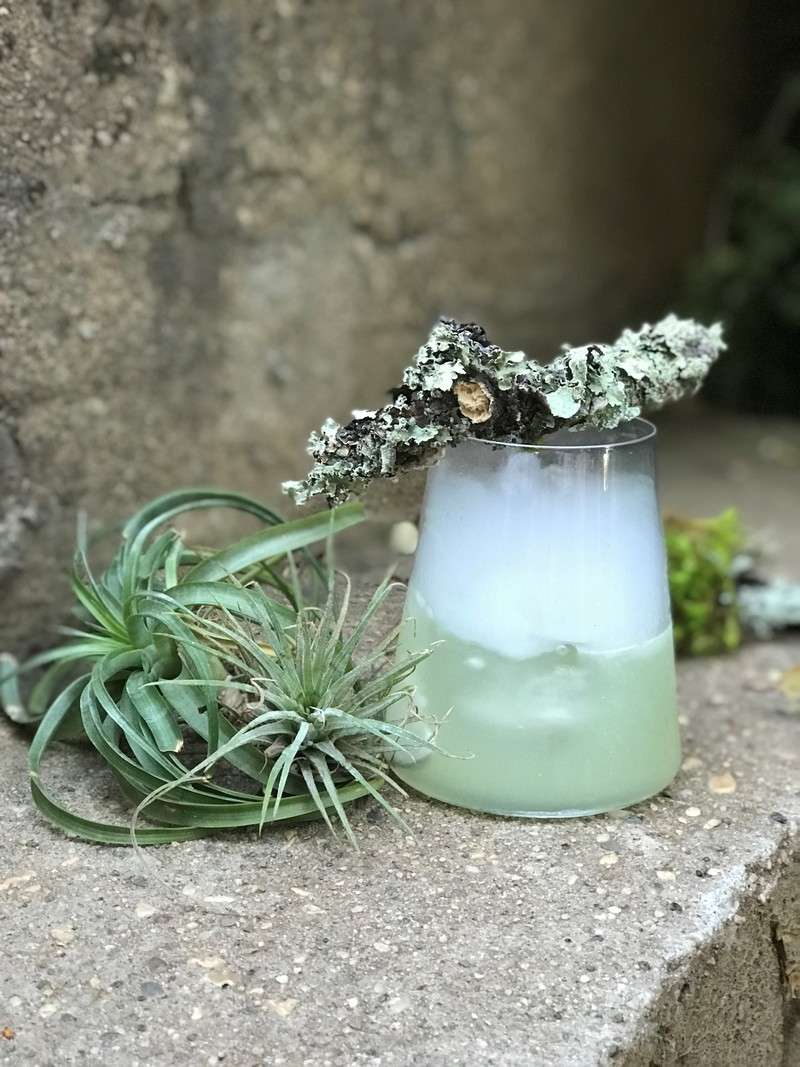 The Wardian Case
Look at that beautiful, green color... A perfect sipping companion for our terrarium project. Gather your recipe items and we'll experiment together.

Ingredients
1 1/2 oz. White Rum
1 1/2 oz. Fresh lime juice
3/4 oz. Green Chartreuse
3/4 oz. Velvet Falernum
Absinthe (for rinse)
Extra large ice cube
Recommended Tools
Cocktail shaker with strainer
Jigger
Hand citrus juicer
Vermouth atomizer (optional)
Directions
If using a vermouth mister, fill it with Absinthe and mist the inside of the cocktail glass with 1-2 sprays. If not using a mister, pour a dash of the absinthe into the glass, swirl around and pour out. Add rum, lime juice, Chartreuse, and Velvet Falernum into a cocktail shaker with ice and shake vigorously for 10-15 seconds. Strain into glass and add an extra large ice cube. Garnish the rim of the glass with a piece of lichen or a lime wheel.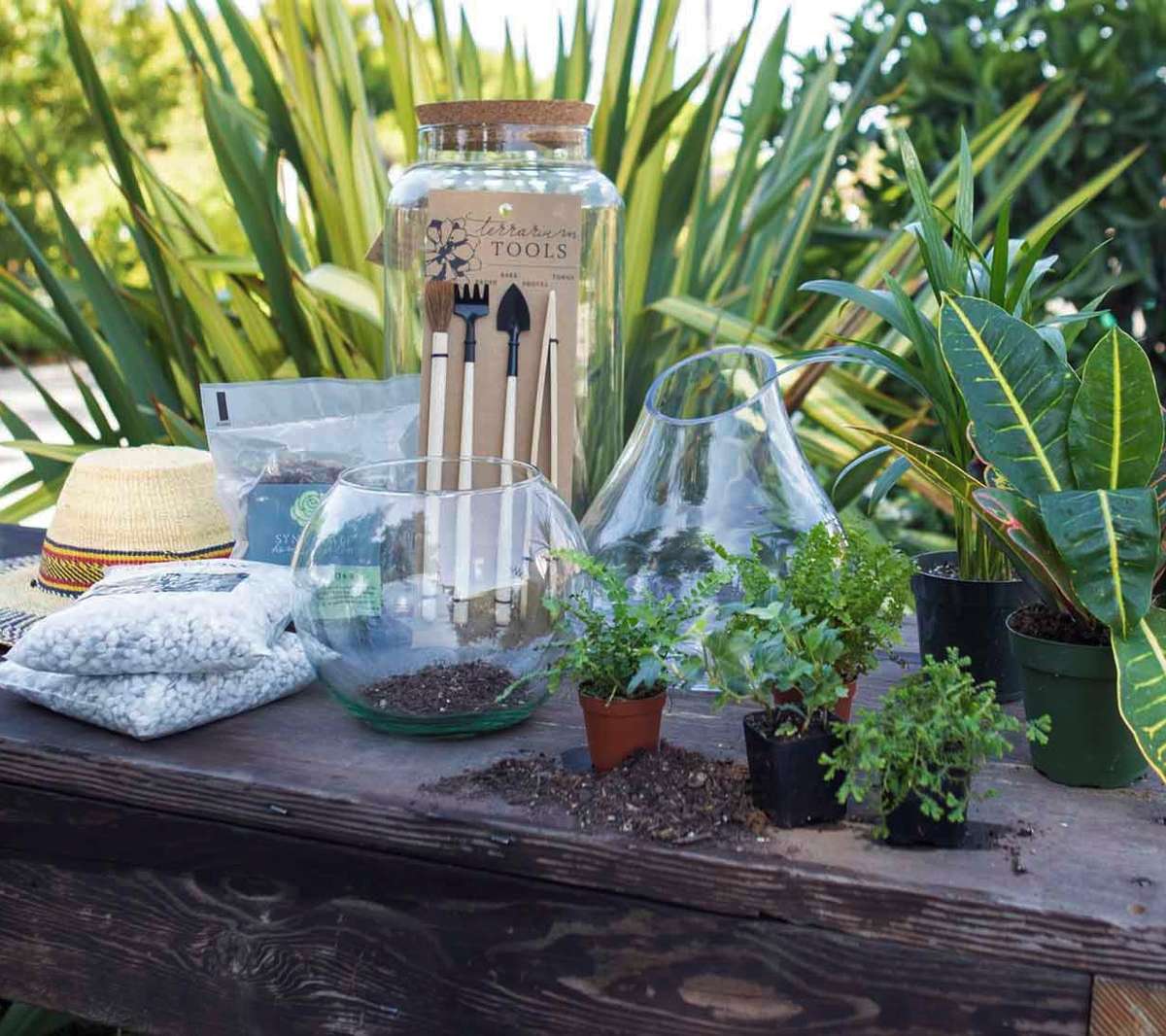 Terrarium Tutorial
This week, we're working with a completely blank canvas. You can create and customize your terrarium project to fit your space and style. Have fun with it! While glass is the traditional "house" for terrariums, you can build from small to very large, using houseplants or succulents, adding accents or colors that match your décor.

So browse the list and have your supplies ready to plant along with us.
A glass vessel of your choice; we have an eclectic mix, or use a treasure from home
Sand or Small Pebbles
Horticultural Charcoal
Sphagnum Moss
Potting Soil
2" or 4" Houseplants or Succulents of Varying Height, Color and Texture. (Note: You can plant succulents if your terrarium does not have a lid.)
Optional:
Decorative Rock, Glass, Shells, Decorative Moss, Fairy Garden Pieces, Driftwood...you get the idea.
Summer Series III, Terrarium Takeover