Join us for a Miniature Jewelry Box Garden CREATE Class!
Saturday, July 22, 2023 at 10:00 AM
Auburn,
Citrus Heights, Elk Grove, Folsom, Rocklin, Roseville
and
Sacramento
$55 (plus tax)

Our experienced garden gurus will lead you through the process of crafting a one-of-a-kind pot arrangement inspired by a jewelry box. Participants will combine a sleek white cube planter adorned with an array of delightful succulents and decorative glass elements. As a finishing touch, we'll add a stunning gemstone jewelry tree crafted by the talented local artist,
Giddy.Glass.
We also invite participants to bring their own small trinkets from home to add to their pot-ups.
We'll guide you through the steps to create a captivating pot arrangement and share valuable insights on how to nurture and maintain it. Bring along a companion and immerse yourself in the joy of getting your hands in the soil.
Space is limited to 20 participants per location. Purchase your tickets below.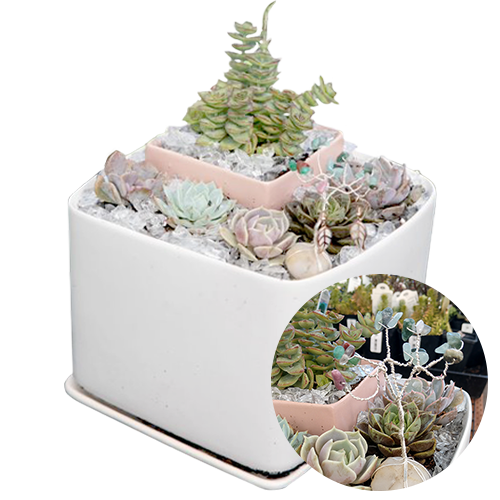 The $55 fee plus tax includes:
White Cube Pot with Attached Saucer - 7"
Seven Assorted Succulents
Cube Cache Pot - 4.5"
Gemstone Jewelry Tree by
Giddy.Glass
Exotic Decorative Glass
Purchase Your Tickets Based On Location