6 Summer Container Recipes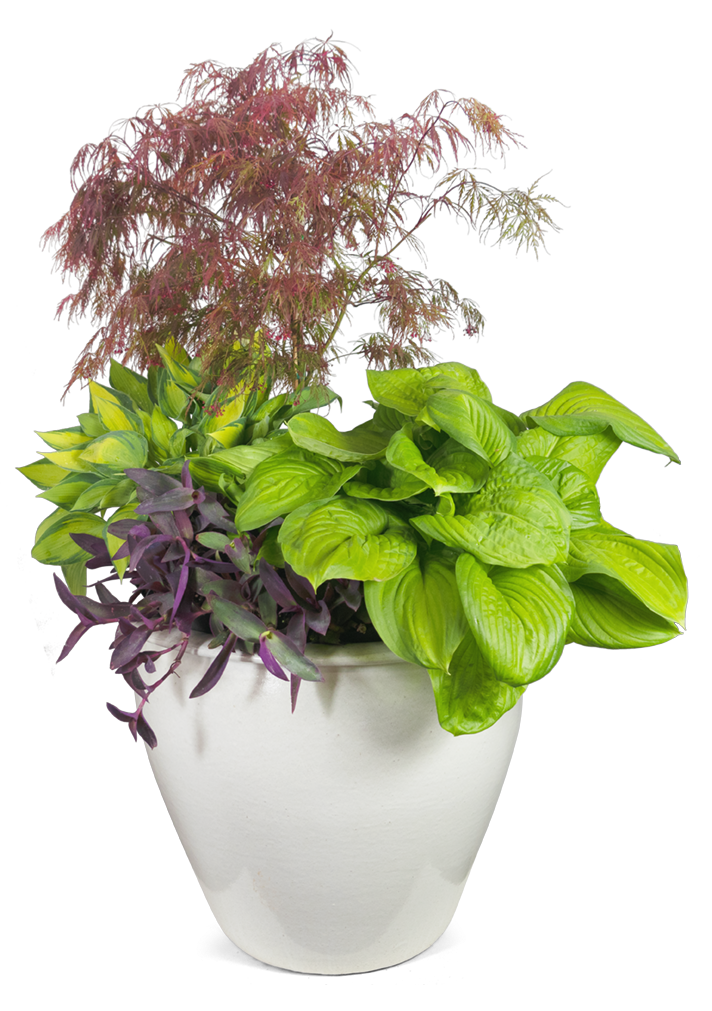 Summer Pot-Ups With Pizzazz
There's no better way to refresh your front porch, back patio, or flowerbeds than by creating colorful, textural, seasonal pot-ups. We've put together six pot-up recipes that include some of our favorites to add pizzazz and personality to your summer. Add or subtract quantities to fill your containers.

Tip: remember that water in pots drains much faster than in ground soil, so keep an eye on your works of art by testing the soil daily during summer—if the soil is dry at a depth of two inches, it's time to water. Succulents and cactus need to dry out completely between waterings.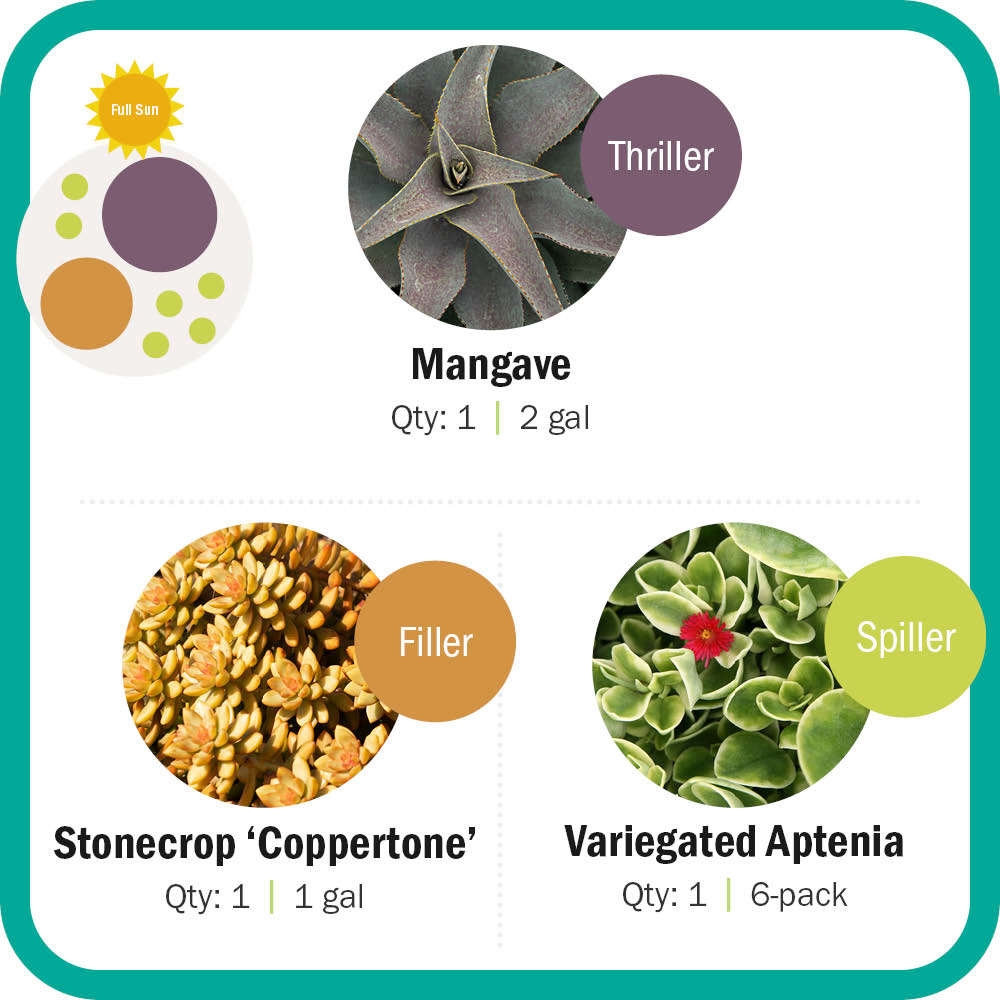 Coppertone
A full sun combo for those who prefer simplicity in style and care. Although, a little afternoon shade wouldn't hurt. Planted in a light blue or turquoise pot will really make the leaf colors pop while adding a cool color to the mix. The recipe is designed for a pot that is around 15" in diameter. Plant in a succulent cactus mix for the best drainage for these plants that do not like wet feet.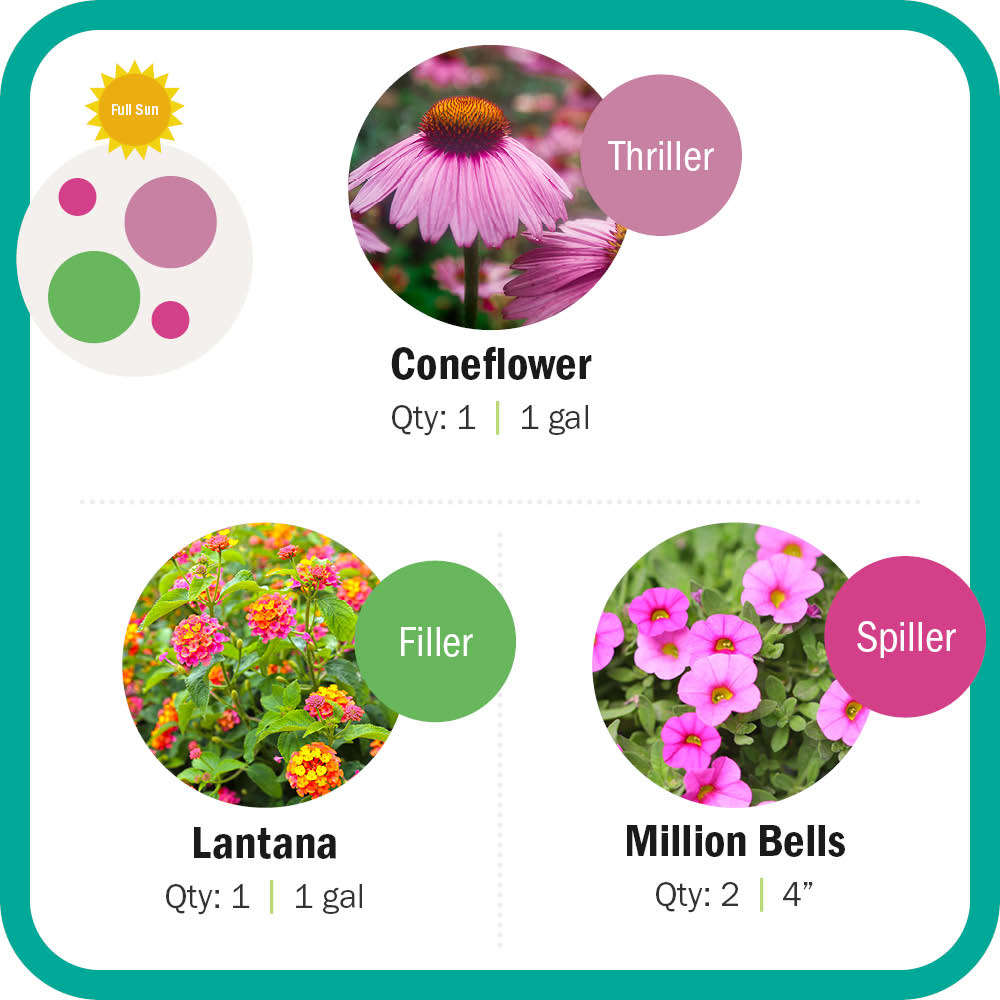 Invitation For Pollinators
A color palette that is refreshing during our hot summer days, light pinks and shades of yellow are perfect complements to white or dark blue pottery. The coneflower stands tall, inviting pollinators, while the lantana fills in as a landing for butterflies. Plant in a potting soil for water retention so you don't have to water as often. Pinch flowers to keep the blooms coming.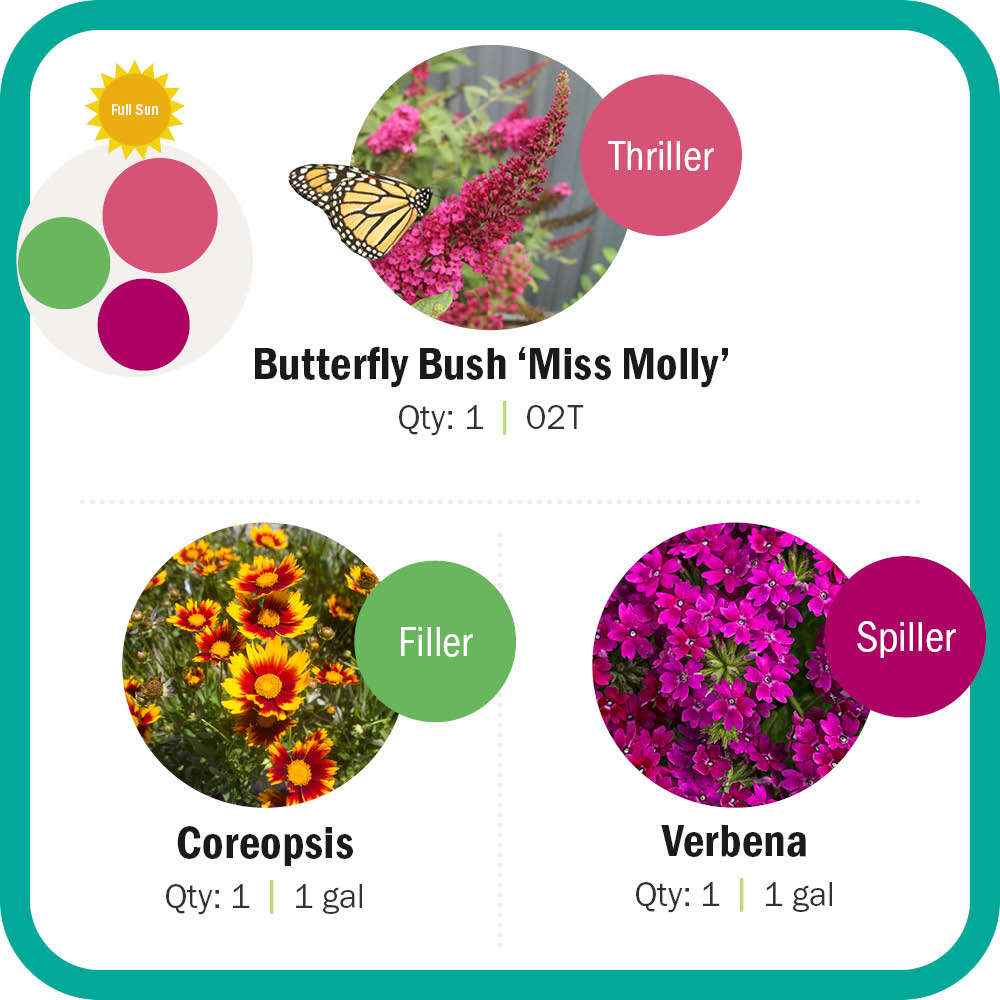 Brilliant For Butterflies
We're going all-in on butterflies with this combo. Choose a white, black, blue or dark green pot that is about 20" in diameter. Use a potting soil for better water retention. Deadhead and pinch for repeat blooms so the all-you-can-eat buffet for butterflies stays open.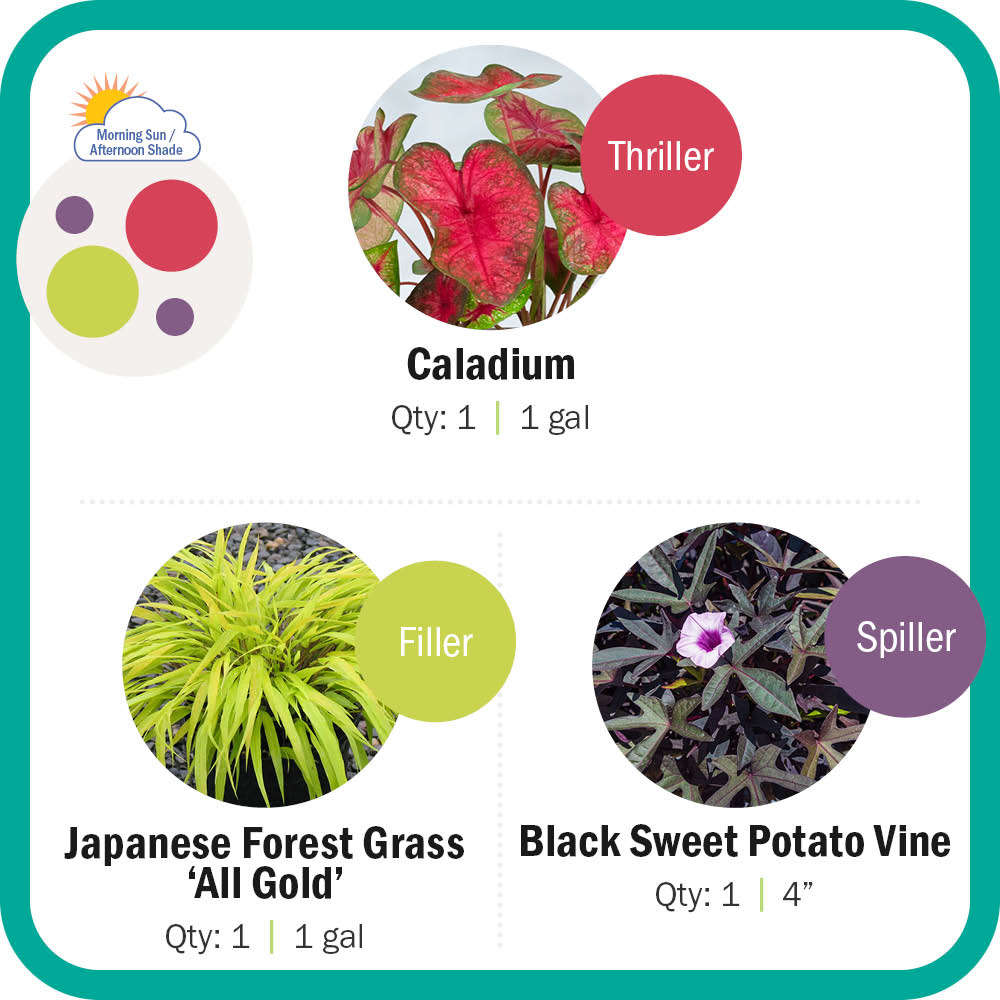 Easy-Care Color
Morning sun and early afternoon shade is important for this group, especially when it gets really hot. There are no flowers to pinch, making it low maintenance. Step away from the porch or back patio and position your container in a bare spot amongst bedding plants. It's fun to see a beautiful pot, filled with colorful texture, peeking out of a group of shrubs. We recommend a pot that is brightly colored to illuminate a shady area, and about 18" in diameter. Potting mix is ideal.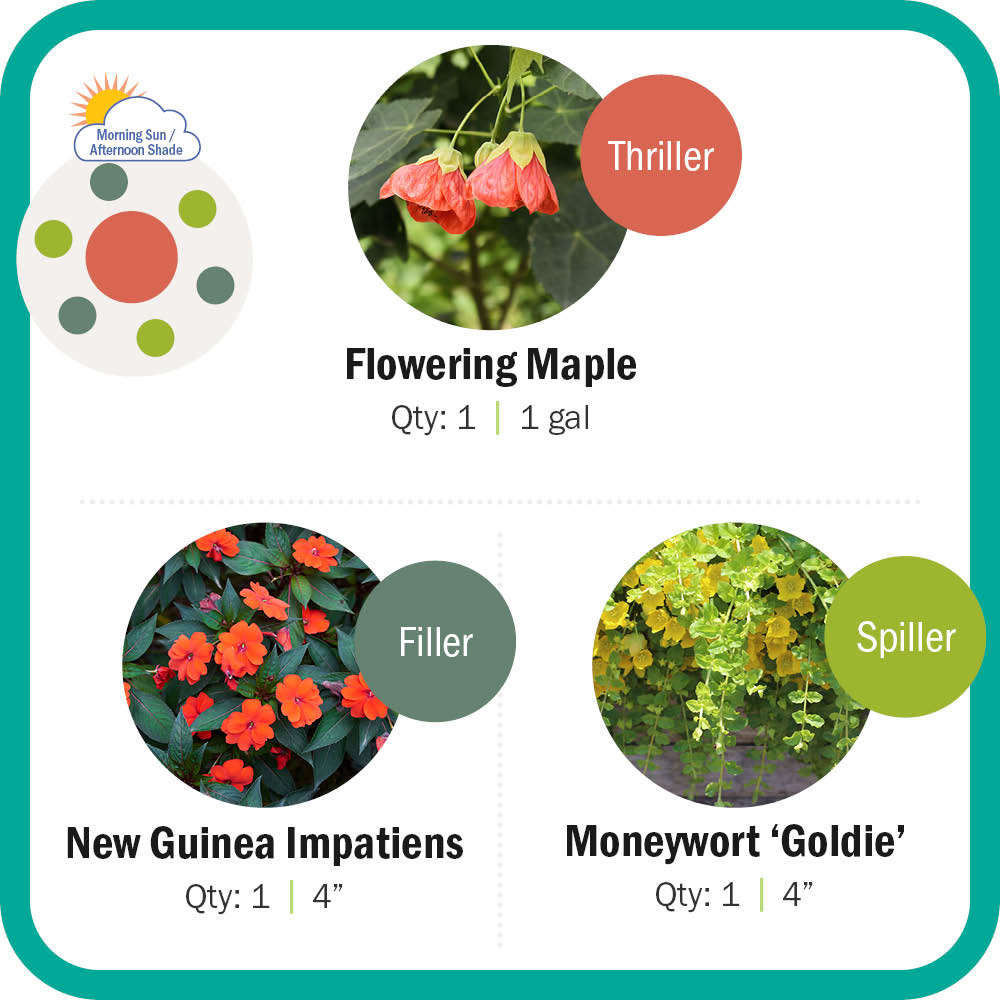 Bright Spots
Eye-catching orange and bright chartreuse are just what a dark blue or black pot is asking for. Plant in a container that is at least 20" in diameter. Have no fear, deer are not likely to eat these plants, but hummingbirds and butterflies will enjoy. As with any flowering plants, doses of organic fertilizer formulated to push blooms will help to keep blooms coming throughout the season.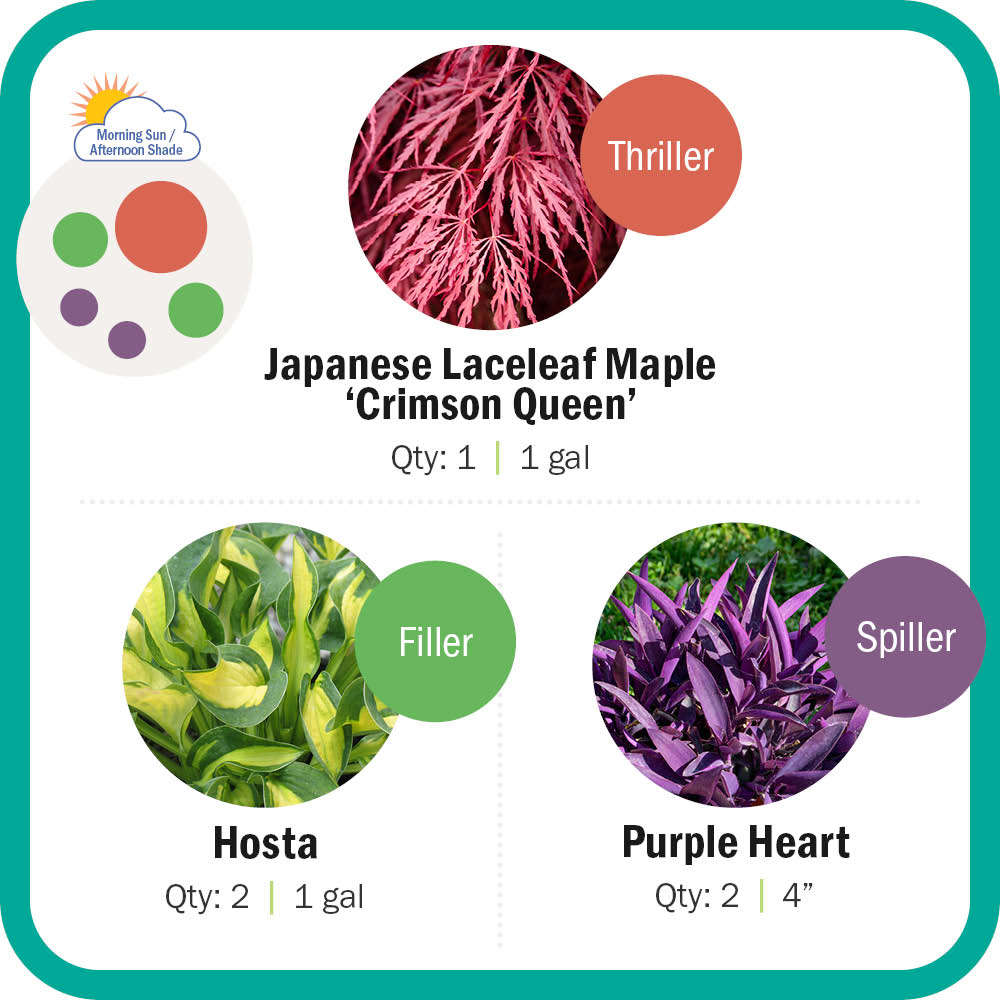 All About The Leaves
Japanese maples are ideal for growing in containers. The growth rate is very slow and many offer fall color. There's something to be said about the power of leaf color, size and texture to create interest rather than relying on flowers. Plant in a mix of potting soil and fir mulch. Apply an organic fertilizer, blended for Japanese maples, throughout the growing season.