Summer Series Part I, Mediterranean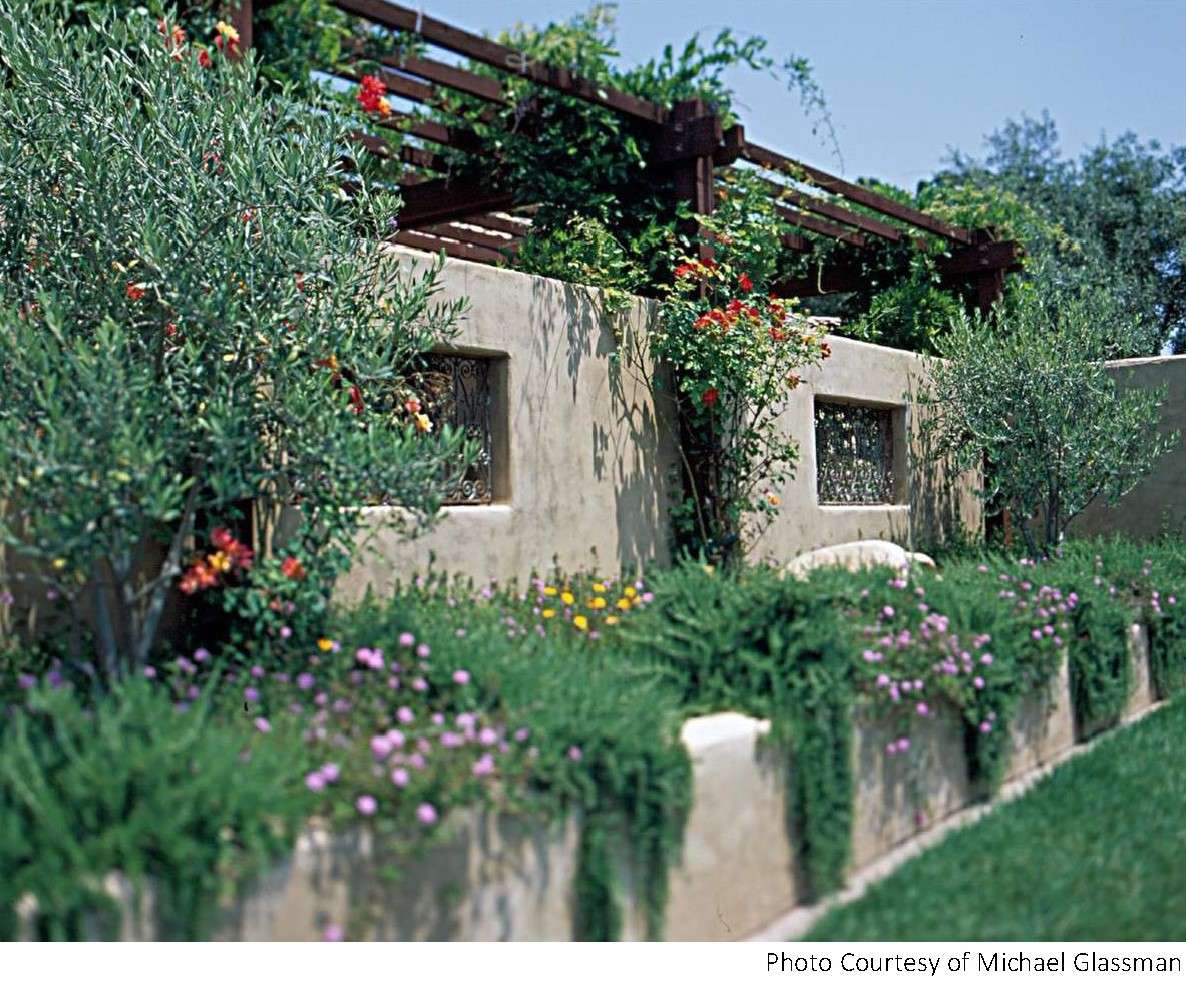 Make It Mediterranean
Taking its cue from the coastal areas of Spain, Italy, and France, the Mediterranean gardening style combines plants that provide texture, color, and structure, alongside more formal accents. With our Mediterranean climate, the Sacramento region is the perfect backdrop to create this beautiful, easy to maintain, waterwise outdoor space. Plants that do well in our climate will add year-round interest to your garden, flourishing with local precipitation cycles, drawing beneficial wildlife in to play, while requiring less pest management.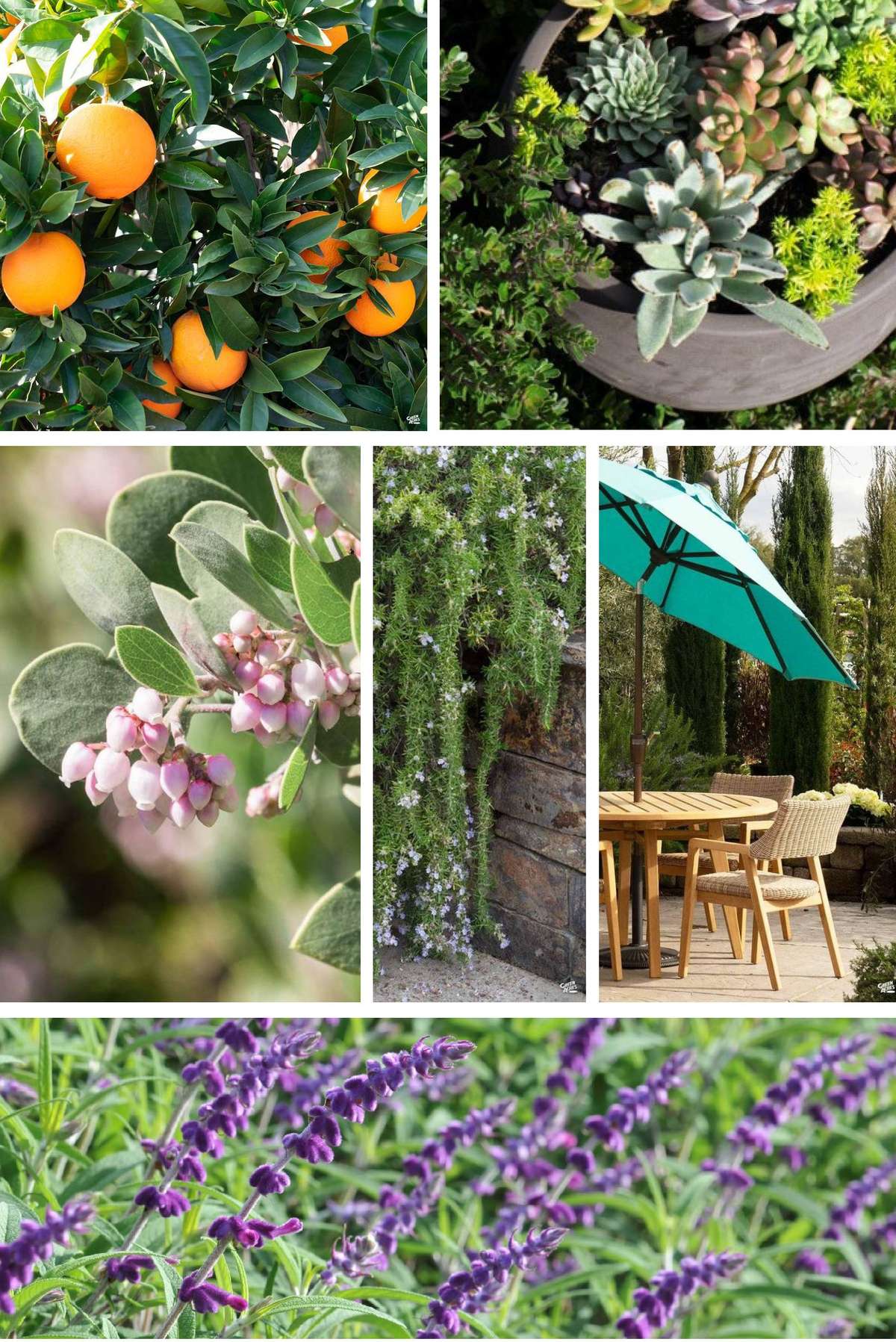 Consider These Elements
for Your Mediterranean Garden:
Plants with Benefits: Incorporate Mediterranean favorites that provide color and texture with the added benefit of being waterwise and edible: olive and citrus trees, lavender and rosemary, to name a few.
Raised Beds: If you have uneven ground, live on a hillside, or have poor soil—a raised garden bed is a versatile solution to build your garden.
Shady Spot: In the heat of summer, everyone is looking for a bit of shade. Simple, even rustic, patio covers can protect seating areas from the sun and heat. Add a vining, twining plant to complete the look. Or, punctuate with a vibrant umbrella.
Groundcover: Limit the lawn in favor of gravel pathways and groundcover for your Mediterranean garden. Both are easy to maintain, requiring less of your time.
Pottery: Create focal points and add interest and depth with container plantings. Available in many shapes, sizes, and colors—allowing you to design for your aesthetic.
Outdoor Seating & Eating Areas: Create comfortable seating areas to relax and take in your surroundings.
Water Features: Small or large, the use of ponds, fountains and birdbaths will provide a feeling of cool relief from the hot summer season. Also great for attracting butterflies, bees, and birds—a key component to Mediterranean landscapes.
Hedges & Topiaries: Evergreen shrubs with a tidy form provide height and structure, and year-round, easy care interest in your garden.
Planting Your Mediterranean Garden
We've put together a few plant combinations to help inspire your own Mediterranean garden creation. For each section, we've provided tree, shrub, perennial, and groundcover options so you can select varieties that will work best in your landscape.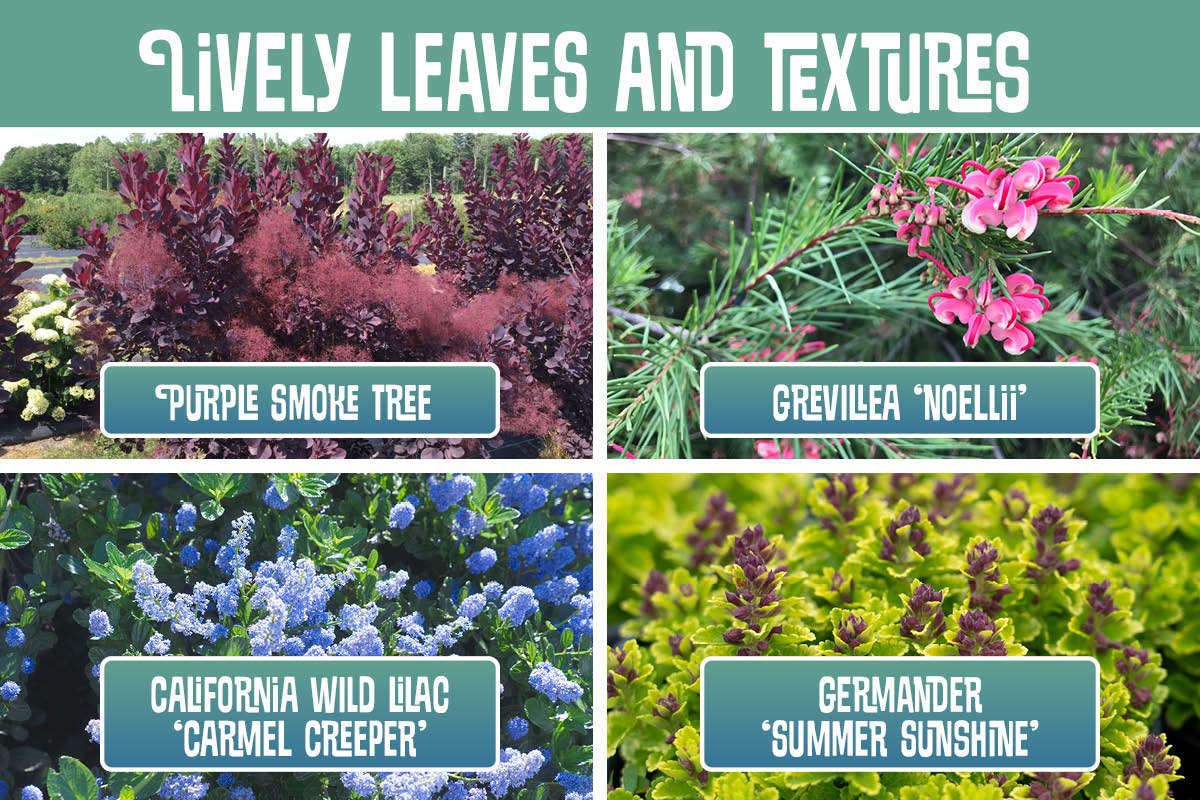 Purple Smoke Tree
Native to North America, this is one of our favorites for its deep purple, round leaves, and unusual clusters of tiny flowers that look like puffs of pink smoke. It not only tolerates low water, it is often used in firescaping.

Grevillea 'Noellii'
A native to Australia, grevillea is grown in many varieties. Grevillea 'Noellii' has fine needles that create some textural interest with other plants that have large and medium-sized leaves in different colors. A hummingbird favorite.

Germander 'Summer Sunshine'
The name 'Summer Sunshine' speaks for itself; its vibrant chartreuse leaves are eye-catching, but not so much for deer. It's not only waterwise, it's deer resistant.

California Wild Lilac 'Carmel Creeper'
Every variety of this California native invites a party of pollinators during its early spring bloom. The bright, evergreen leaves hold up to the hottest summers. Plant this wide spreader to fill in large areas with little height.
Lively Leaves And Textures
Our Lively Leaves and Textures combination lends itself to the Mediterranean design principle that uses a variety of leaf colors, shapes, and sizes to create an informal garden that is low maintenance and interesting all year. Add big, bold bloomers in terracotta pottery as accents.

Trees: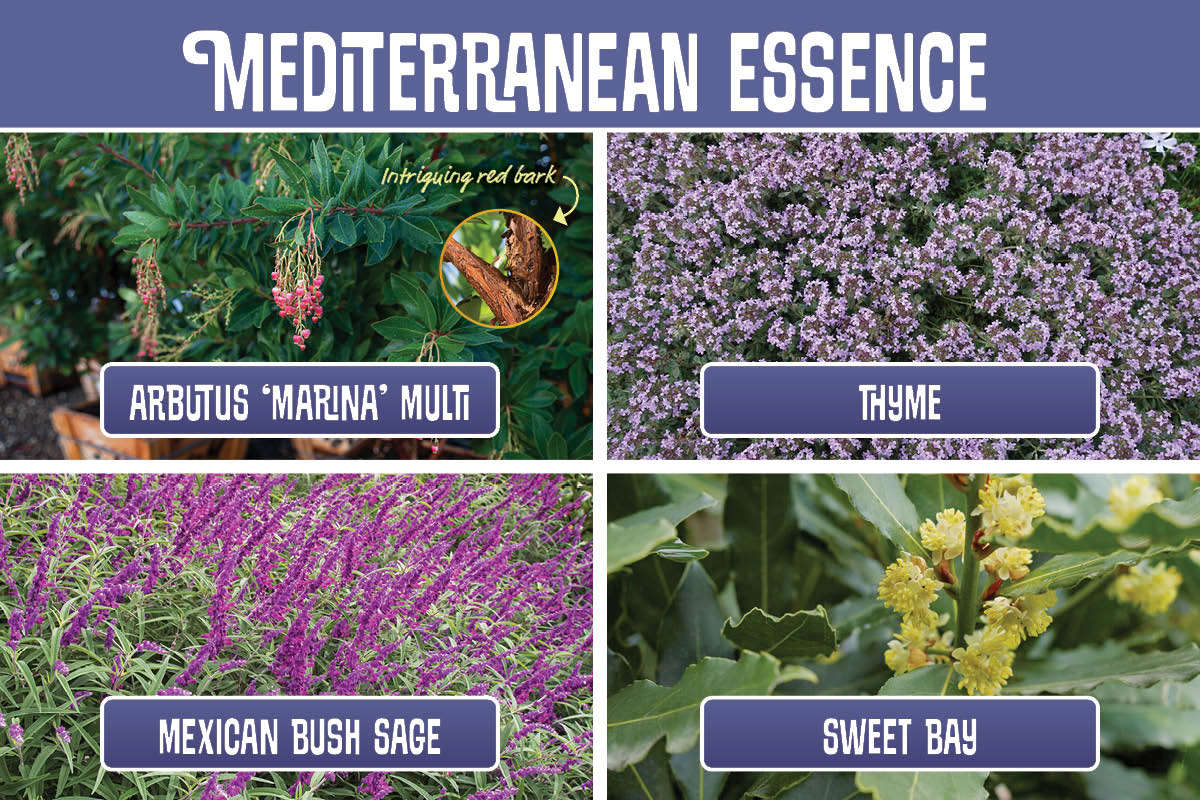 Arbutus 'Marina'
Native to the warm regions of the Mediterranean, this tree meets all of the criteria for year-round interest: flowers for hummingbirds; small, bright, edible fruit; beautiful peeling bark; and it's deer resistant. Plant where you want a focal point to uplight.

Sweet Bay
We can't overlook the leathery, large, aromatic leaves of this evergreen shrub or tree. Its natural pyramidal shape provides form and function—the leaves are culinary gold—in a Mediterranean landscape.

Mexican Bush Sage
In early spring, this Central American native—also commonly called Velvet Sage—starts pushing its rapid growth to provide fragrance and texture. The leaves are long and narrow, with a soft grey-green color and fuzzy flowers. A perfect accent to plant near evergreen shrubs that have large leaves.

Thyme
Adding to the many scents in this combo, thyme is probably the one with which you are most familiar. Plant thyme as a border to a stepping stone path. Stepping on or brushing against the foliage will produce the culinary scent we know so well.
The Essence of Mediterranean
Our Essence of Mediterranean collection is a combination that includes aromatic plants—some of which can be used for culinary purposes.

Trees: