Winter Rose Care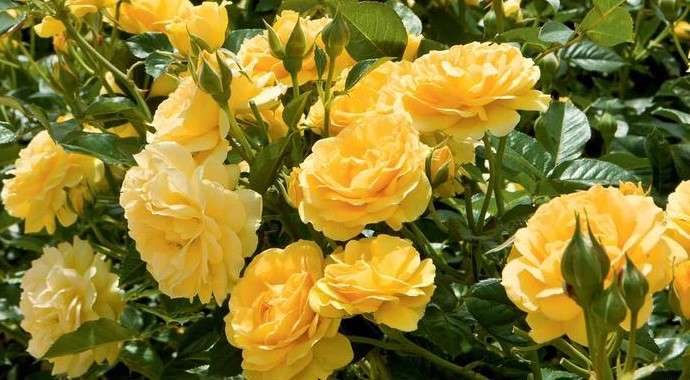 Dormant Sprays, Pruning & Feeding
Winter is an important time of year for roses. If you provide your beauties with a little TLC now, you'll have healthy, happy plants through the coming seasons. It's time for dormant sprays, pruning, and feeding. Read on about the basics for each task and resources for more information.
To ensure a year of abundance and beauty, now's the time for dormant care for your existing roses. Dormant care is all about prevention. Prevent disease, insect pests and weeds this time of year to make next spring, summer and fall healthier and even more beautiful by applying dormant sprays. For more information, consult our
Dormant Spray Guide
.
Winter pruning is critical for roses, and now is the time of year to do hard pruning. Heavier pruning gives larger, yet fewer, flowers. A lighter pruning gives more, yet smaller, flowers. For hybrid teas, grandifloras
and many floribundas, leaving three to five short canes in a vase-shaped configuration is ideal.
To learn more about good pruning practices for your roses, read
Pruning Roses
.
As you prune away the old canes, you are removing disease-hiding spots and overwintering pest eggs, especially aphids. Remove and dispose of any diseased leaves on the ground to help stop disease cycles.
Once the pruning is done, top dress the soil with a layer of fresh compost or earthworm castings. Add more mulch on top of the compost as needed to keep mulch level three inches deep, being careful not to have it at the base of the trunk. This will keep weeds down, and ensure your soil is very healthy. Healthy soil keeps plants stress-free, reducing disease and insect pests significantly.
While your roses are dormant this winter, adding
E.B. Stone™ Organics Alfalfa Meal
releases critical trace minerals and a natural growth hormone your roses will love. New spring growth is the signal to begin using
E.B. Stone™ Organics Rose & Flower Food
. Our gurus recommend organic fertilizers for regular, sustained growth over the long term. Synthetic fertilizers often have salts in them, and roses are not salt-tolerant.
Winter is also when bareroot roses arrive for the season, making it the ideal time to get the best selection at the best prices. To view all of the choices available this year, browse our
Bareroot Rose Varieties List
.
If you're undecided,
Get To Know Roses
is a great resource to guide you through the different types of roses, so that you choose the right one for your garden.
If you are transplanting any of your existing roses, winter dormancy is the
ideal time to move them to another spot. Dormant roses handle transplant stress much better than actively growing roses. We've put together some excellent tips for transplanting
and
new plantings:
A Few Tips To
Get Your Rose Garden Started
.