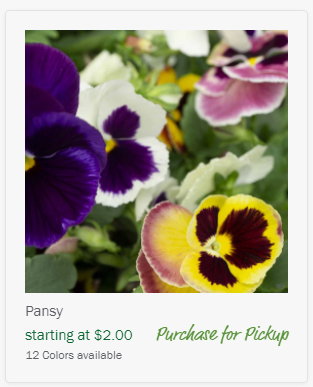 Shop In Stores or Online
to Purchase for Pickup
You can order online and we'll have your order ready for pick up within 48 hours.
Select items labeled "Purchase for Pickup"
Add to your cart
Choose a location to pick up your items
Complete your payment
Because plants are unique, and their availability changes often, our team will be in touch to coordinate your order and answer your questions—we want to get your order right.

When you arrive to collect your order, look for Purchase for Pickup designated parking. You can come in or call from your car and we'll bring your order out to you.

Questions about an online order?


Our Fulfillment team is available to assist you with processing online orders seven days a week from 8am-5pm. Please send your questions to
Fulfillment@iDigGreenAcres.com
. Please include your phone number and order number, if you have one.
Shop Purchase for Pickup Collection