Dahlia Planting Recipes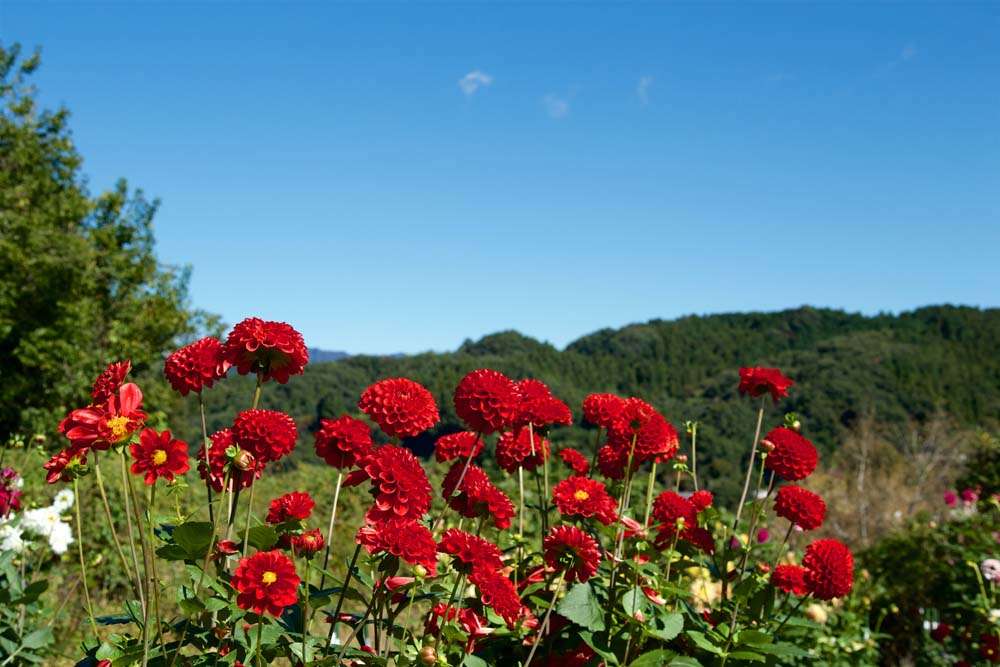 Delightful Dahlias
There's a lot to like about dahlias. They come in every color of the rainbow. They come in different shapes and sizes, with a beautiful geometric pattern on their blooms. They can be small, medium, or very large. They can be short or tall. Dahlias can be planted as a container thriller, in a cutting garden, or in a perennial bed. There's no question, we love dahlias for their versatility, but do you know what to partner with these pretty perennials? Read on for three dahlia recipes and a list of other planting partners to choose from.
Sweet & Silver
Plant a brightly-colored Dahlia bloom—we're thinking purple or red—against the calming, neutral palette of Artemisia and Sweet Alyssum for a cool-looking container combination. The different colors, leaf shapes, and texture will stand out in any garden, and they are all easy care.

Morning sun, afternoon shade and moderate water.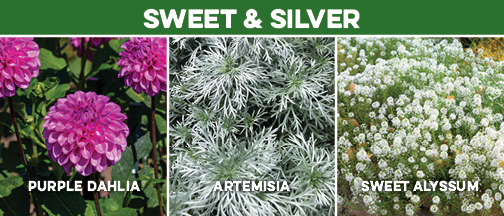 Not Your Grandma's Garden
If you think dahlias are old-fashioned, you might be right, but take another look at some of the unique varieties that are available now. The bright orange and brown of a Black-Eyed Susan paired with the velvety chocolate of a Chocolate Cosmos next to a yellow or orange dahlia brings summer into the garden for a breathtaking arrangement.

Morning sun, afternoon shade and moderate water.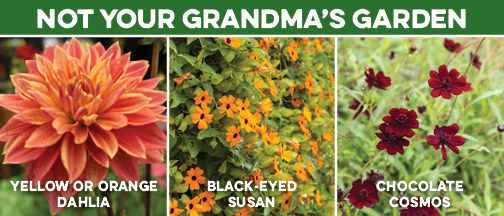 Summer HoliDaylily
Create a color explosion with this bright combination of three classics. Pick out your favorite dinnerplate dahlia—there are so many color combinations to choose from. Add in a helping of Zinnias—bright red, orange, or multi-colored—it all works! Stir in a little Daylily. We like the looks of this two-tone variety in cream and red for this recipe. Now grab an iced tea and sit back to enjoy the show because you are officially on summer holiday.

Morning sun, afternoon shade and moderate water.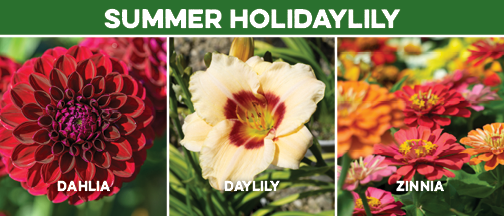 About Dahlias
Dahlias are perennials from tubers that produce large, intricate blooms from summer into fall. You can purchase as bulbs in the spring or plant starts during the summer season.
Soil: Provide well-draining soil and add compost or other organic matter to improve soil structure and nutrient content.
Watering: Consistent moisture is key, especially when newly planted and during the growing season, but be careful because dahlias don't like wet feet! To prevent diseases like powdery mildew and mold, water at the base of the plant and do not spray foliage.
Sun: Dahlias like a little sun in the morning and afternoon shade, especially as we move into the warmer temperatures of summer.
Feeding: Apply a balanced, slow-release fertilizer that is geared to produce big blooms.
Pruning: Want your dahlias to keep on blooming? Just continue to trim off the dead blooms to inspire fresh growth.
Winter Care: Many perennials die back in the winter and return in the spring. To help them overwinter successfully, consider adding a layer of mulch to protect roots and crowns from freezing temperatures.
Watch on YouTube: Planting Dahlias
Planting Partners
Perennials:
Lily of the Nile
Artemisia
Aster
Bee Balm
Black-Eyed Susan
Coneflower
Cranesbill
Crocosmia
Daylily
Lantana
Geranium
Rosemary
Yarrow
Annuals:
Cosmos
Marigold
Nasturtium
Snapdragon
Sweet Alyssum
Zinnia