Summer Series Part II, Pollinators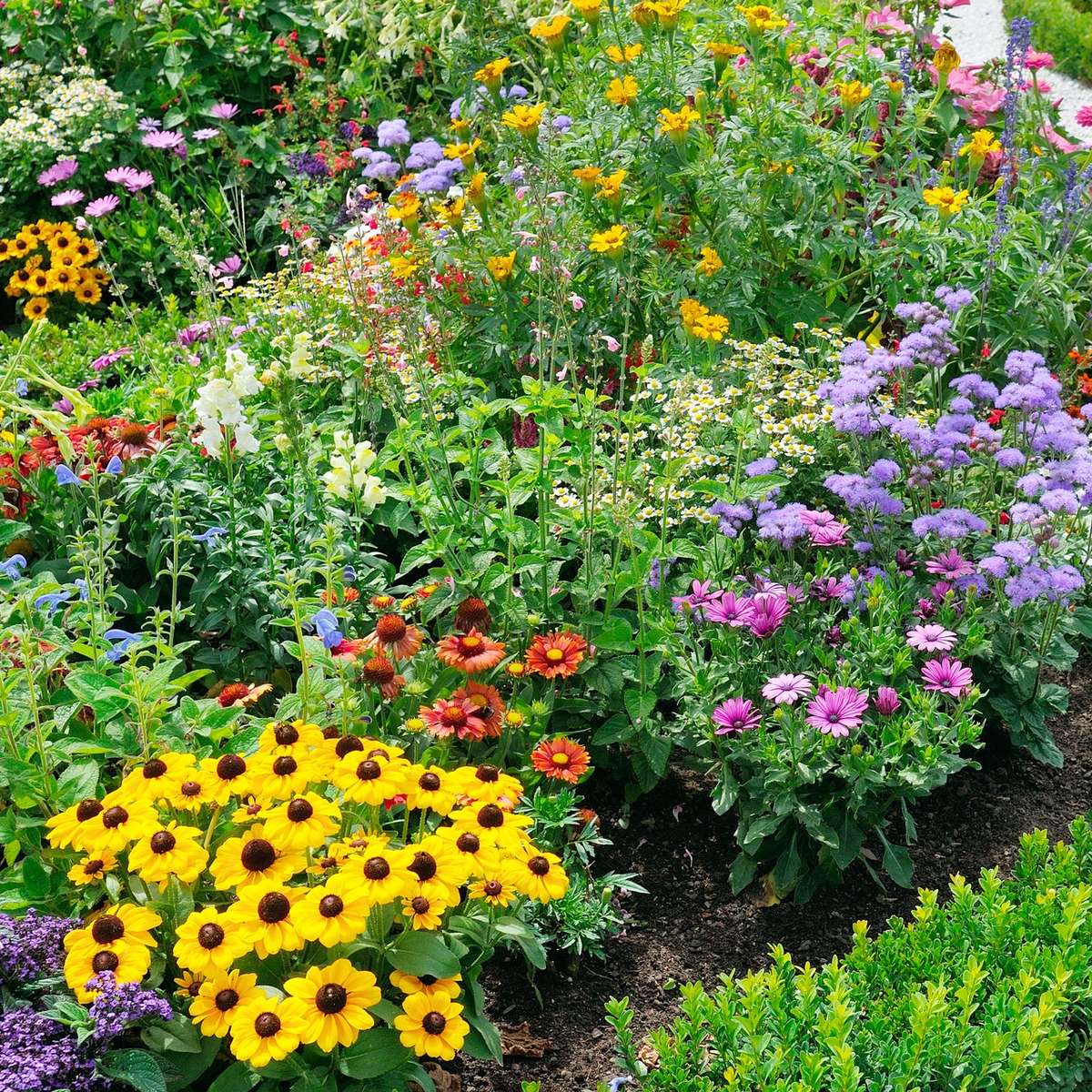 Plant For Pollinators
Pollinators play an essential role in our ecosystem and in the habitat of your garden. So why not invite those insects or animals that move pollen from one flower to the next—into your garden? Flowers are designed to attract pollinators with their bright colors and enticing fragrance. Bees and butterflies are probably the most well-known pollinators—but others include hummingbirds, bats, and small mammals, along with insects like beetles, and ants.

FUN FACT: Did you know butterflies get many of their essential minerals from drinking muddy water—an act known as puddling?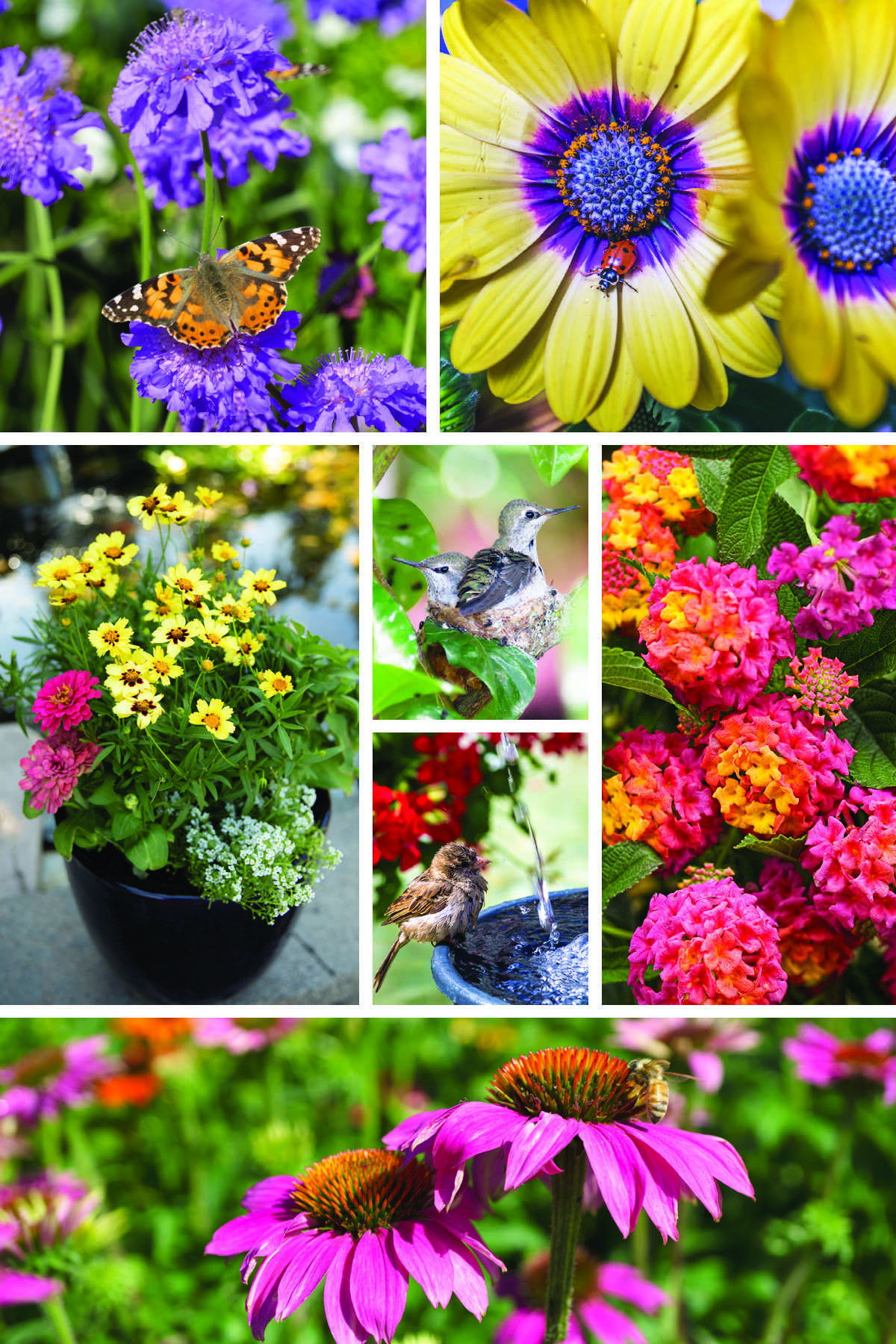 Consider These Elements For Your Pollinator Garden
Mix It Up: Make your garden a welcoming place by planting different varieties of flowers, ensuring successive blooms throughout the seasons, and a constant supply of food.
Cater To The Locals: There are approximately 1,500 species of bees and 200 species of butterflies that are native to California. Native pollinators are most attracted to the plants with which they co-evolved. And, native plants are well adapted to our climate, making them a sustainable choice.
You Smell Good: Fragrance draws pollinators to flowers. Herbs like lavender, sage, basil, and oregano contain fragrant oils, so their nectar is hard to resist.
Nest And Rest: Large screening shrubs make a great shelter for all sorts of pollinators, and some of them, such as Wild Lilac and Toyon are good sources of pollen and nectar, too.
Care For A Soak?: A birdbath is a great way to attract an assortment of beautiful birds to your garden. But don't forget the bees and the butterflies! Use a shallow tray, line with pebbles, and keep it filled with fresh water, for our petite pollinator friends.
Plant Old-School: Flower varieties that have been around for a long time are known to have more fragrance to attract, and more nectar or pollen to feed pollinators.
A Pop Of Color: Draw passing pollinators into your garden with pollinator-attracting perennials in groups of similar colors, such as these: bees are drawn to yellow, blue and purple; butterflies prefer flat-topped "cluster" type flowers in red, orange, yellow, pink and blue; hummingbirds enjoy tube- or funnel-shaped flowers in shades of orange, red, violet, and pink.
FUN FACT: Bees see in a spectrum of light—ultraviolet—that's invisible to us. Many flowers have ultraviolet markings called "nectar guides" which draw bees directly to the pollen and nectar of a flower.
Come in and browse the selection at our nurseries and talk with our garden gurus for additional suggestions that will work in your pollinator garden throughout the seasons.
Creating Your Own Pollinator Playground
We've created a few plant recipes to show you just how easy it is to create a pollinator playground in your own yard. For each combination, we've suggested a tree, shrub, perennial, and groundcover options. Feel free to shop the recipes and select varieties or colors that will work best in your landscape. Just be sure that the different options you select maintain the same water and light requirements to help ensure your planting success! Some of the options are waterwise, some are deer resistant—but all will invite pollinators into your garden—including birds, bees, butterflies, hummingbirds, and more!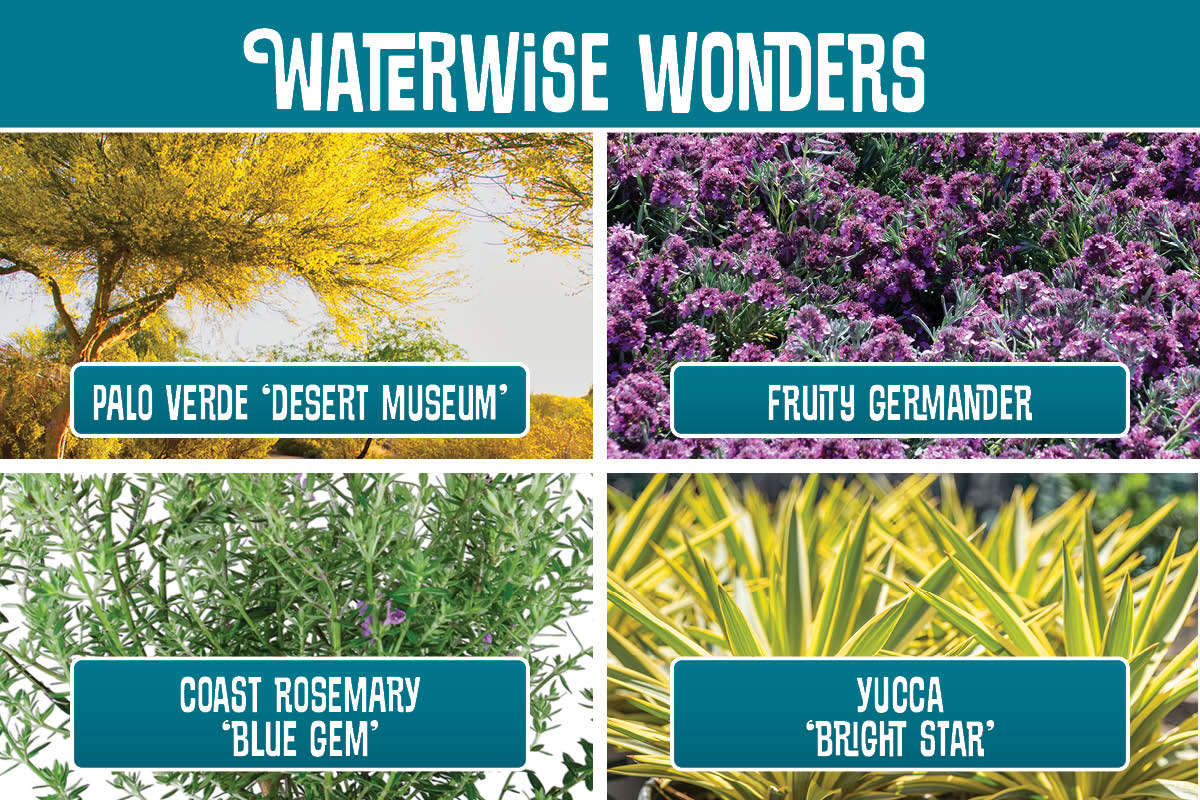 Growing in popularity and for good reason, this fast-growing deciduous tree with large yellow blossoms in spring, often reblooms. The unusual bright green trunk and branches provide interest no matter what the season. Loves the sun and requires very little water.
Coast Rosemary 'Blue Gem'
Attracts butterflies.

Evergreen shrub with a compact habit features striking olive green leaves on dark maroon-brown stems, and vibrant bluish-purple flowers in spring. Very easy care, and deer resistant.
Yucca 'Bright Star'
Attracts hummingbirds.
Nothing short of interesting, this evergreen perennial shrub displays beautiful, blue-green strap-like leaves, with wide, vivid yellow margins. In spring, huge clusters of white blooms on tall stalks appear. Great choice around your pool or grouped in a low-water garden. Very cold hardy and deer resistant.
Fruity Germander
Attracts bees and butterflies.
One of our favorites to fill in around the base of shrubs and perennials. This evergreen perennial forms a trailing mat of fragrant gray-green foliage with lilac-pink flowers summer through fall.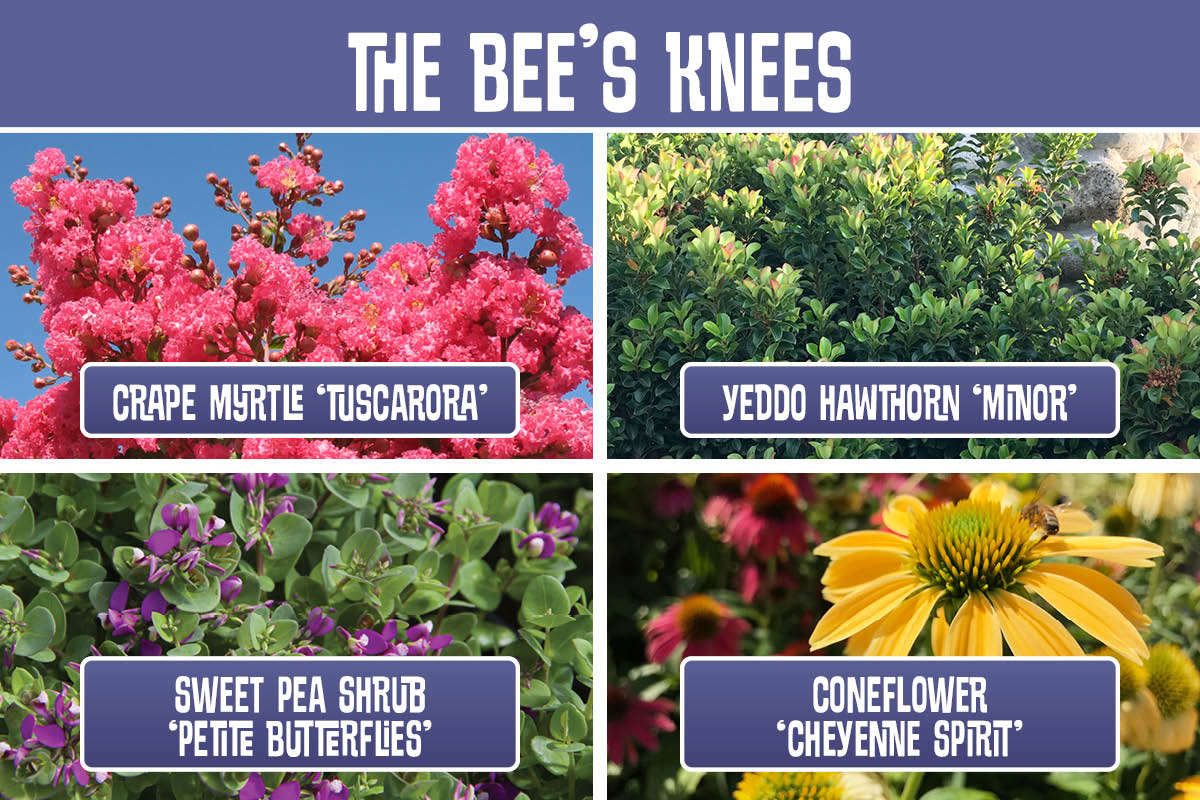 Pollinators simply can't miss the large, conical centers of these daisy-like flowers. This perennial blooms all summer into fall. Select from many varieties to plant in mixed borders or as a container thriller. Deer resistant!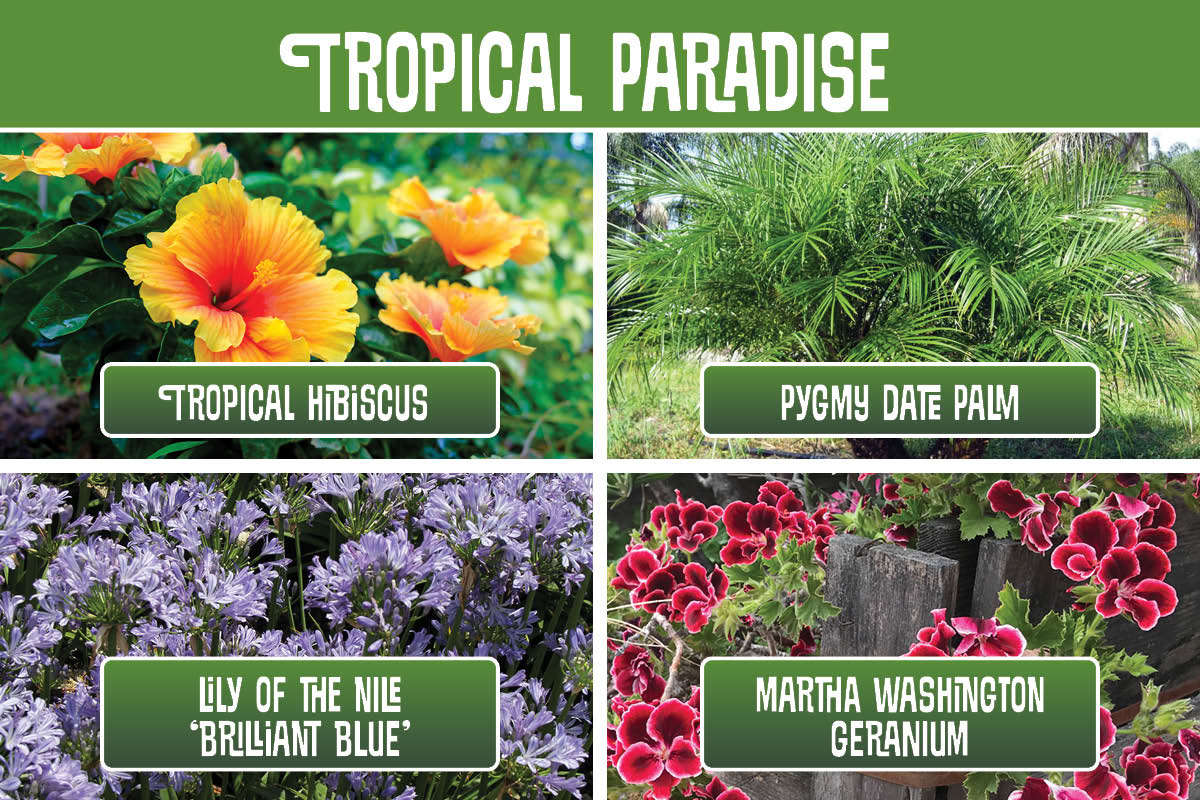 Showy, often bicolor flowers in clusters from spring through fall. Perfect as a stand-alone or in a container with warm season annuals.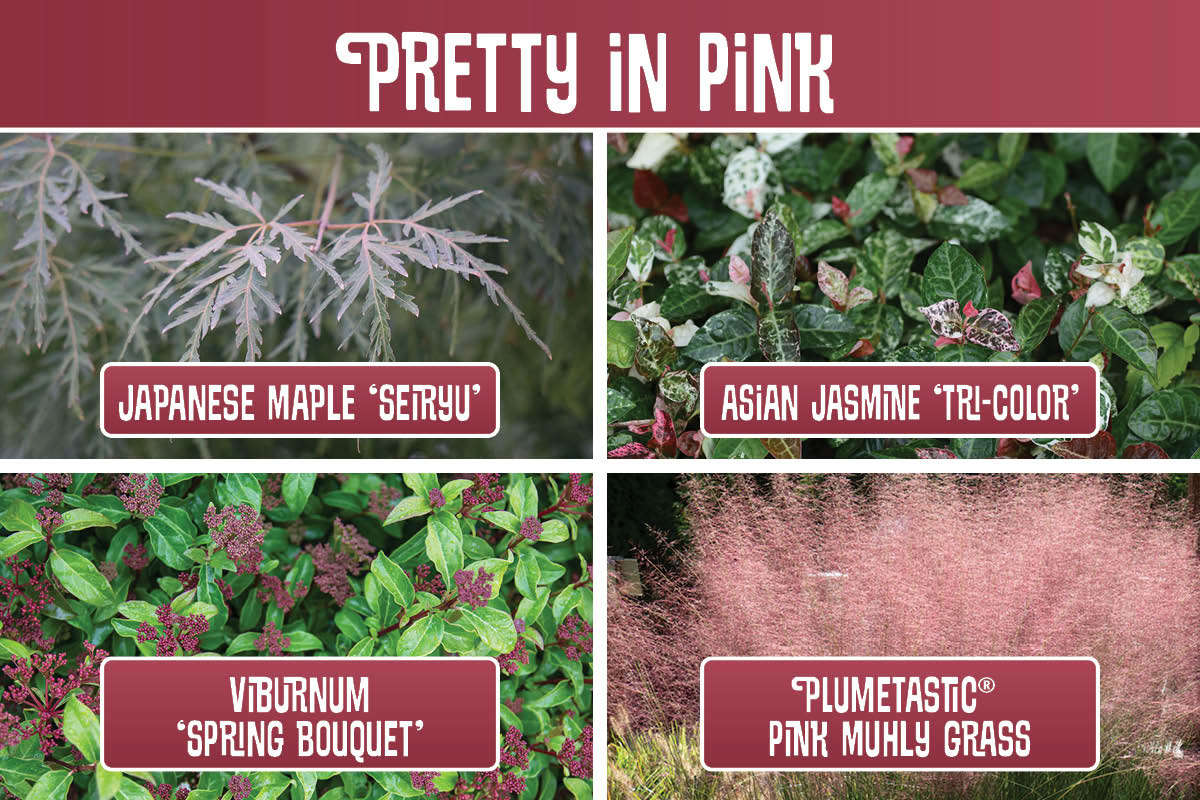 In our effort to provide you with unique options, we couldn't pass up this beautiful variegated foliage with a mix of dark green, white and pink—a very striking groundcover for semi-shady areas.