Summer Series Part IV, Shady Gardens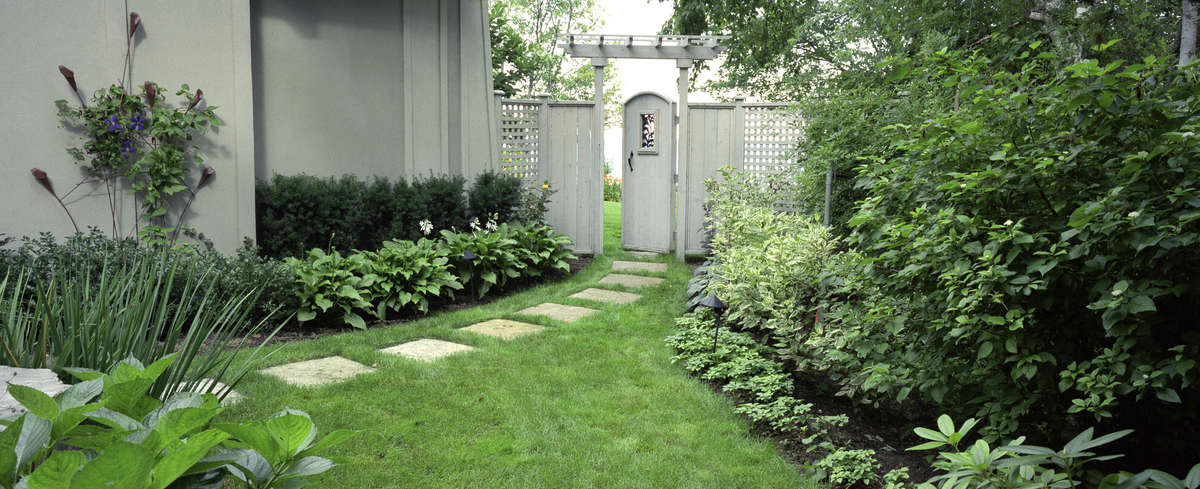 So often, we're asked about what to plant in shade. It can be a bit tricky, based on the type of shade you have, but there's no reason you have to sacrifice interesting, playful greenery in your garden space. And, while we can't coax some of our favorite flowers to bloom in shade, flowers aren't the only big, bold color that make gardens appeal to the senses—leaves have unique shapes, sizes and color that can offer a wow factor too.

Take a look at the primary things to consider when planning your shade garden, and check out the recipes we came up with to get you started.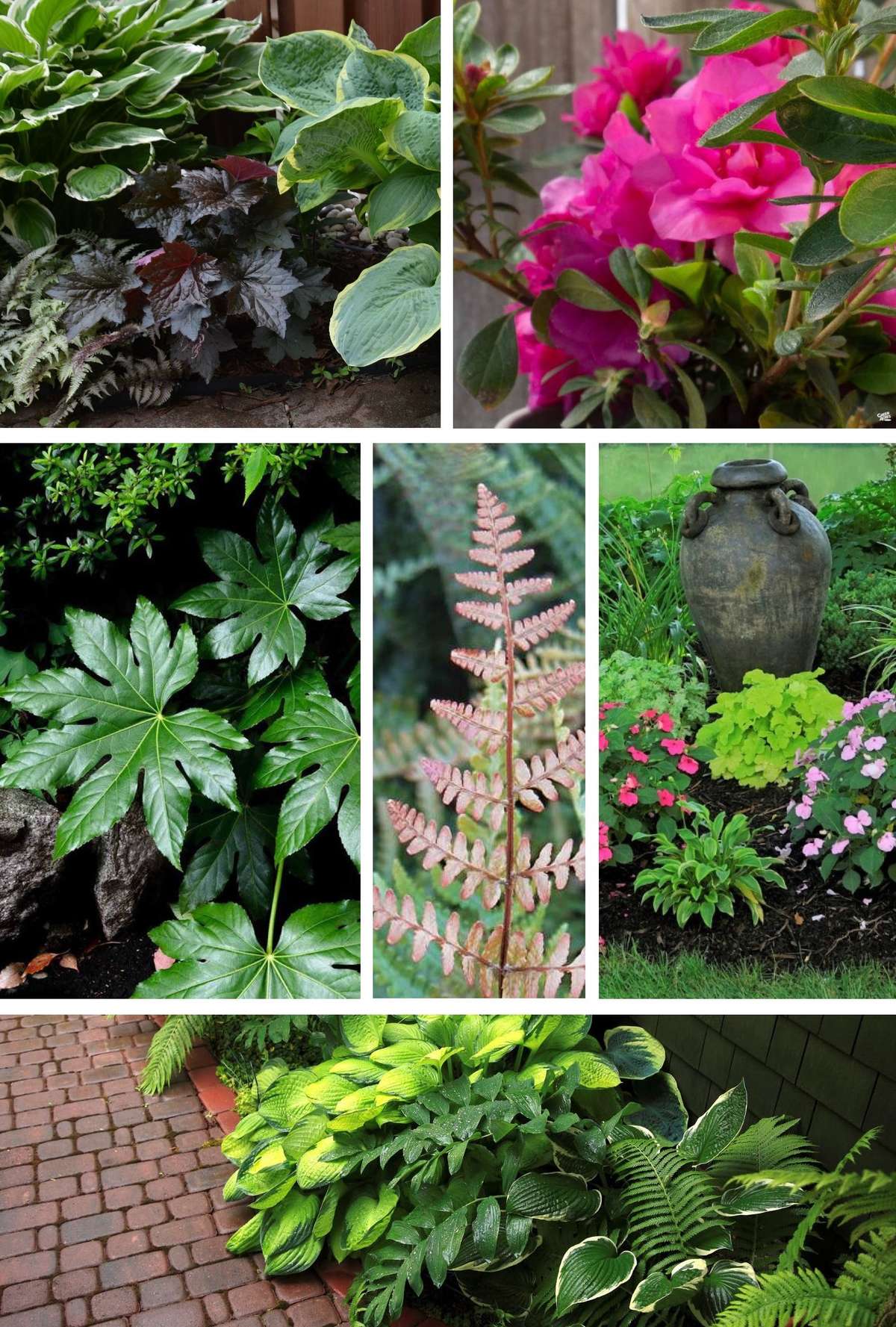 Complementary Elements for Your Shade Garden
Focal Points: Include birdbaths, fountains, statuary, gates, lights, accent trees or plants—you name it—placed strategically to create fun surprises as your eyes wander through the garden.
A Restful Retreat: Add a bench or comfy chair where you can get out of the summer sun to read a book and sip an iced tea.
Bright Spots: Where shade is deep, incorporate light-colored leaves in the background, and throughout, to brighten those dark spots.
Seasonal Blooms: Take advantage of seasonal annuals to show the change of seasons among evergreens.
Foliage Facades: Plant deciduous varieties in pockets behind evergreens; when they go dormant, no one will be the wiser.
Three Is Not A Crowd: When planting for impact, it's important to plant in groups. Large groups of the same plant or different varieties of the same plant are more pleasing to the eye than many individual varieties.
Define Your Shade: There are different types of shade so it's important to know how much shade—or lack of sun—you are dealing with.
Full Shade: Deep shade all day, virtually no sunlight.
Dappled Shade: Filtered sunlight through trees or shade structures.
Morning Sun/Afternoon Shade: About four hours, or less, of sunlight in the morning followed by some form of shade the remainder of the day.
Planting Your Shade Garden
We've put together a few plant combinations to help inspire your shade garden project. Flowering plants for shade are a bit limited, so leaf color and texture for year-round interest is the key to a successful shade garden.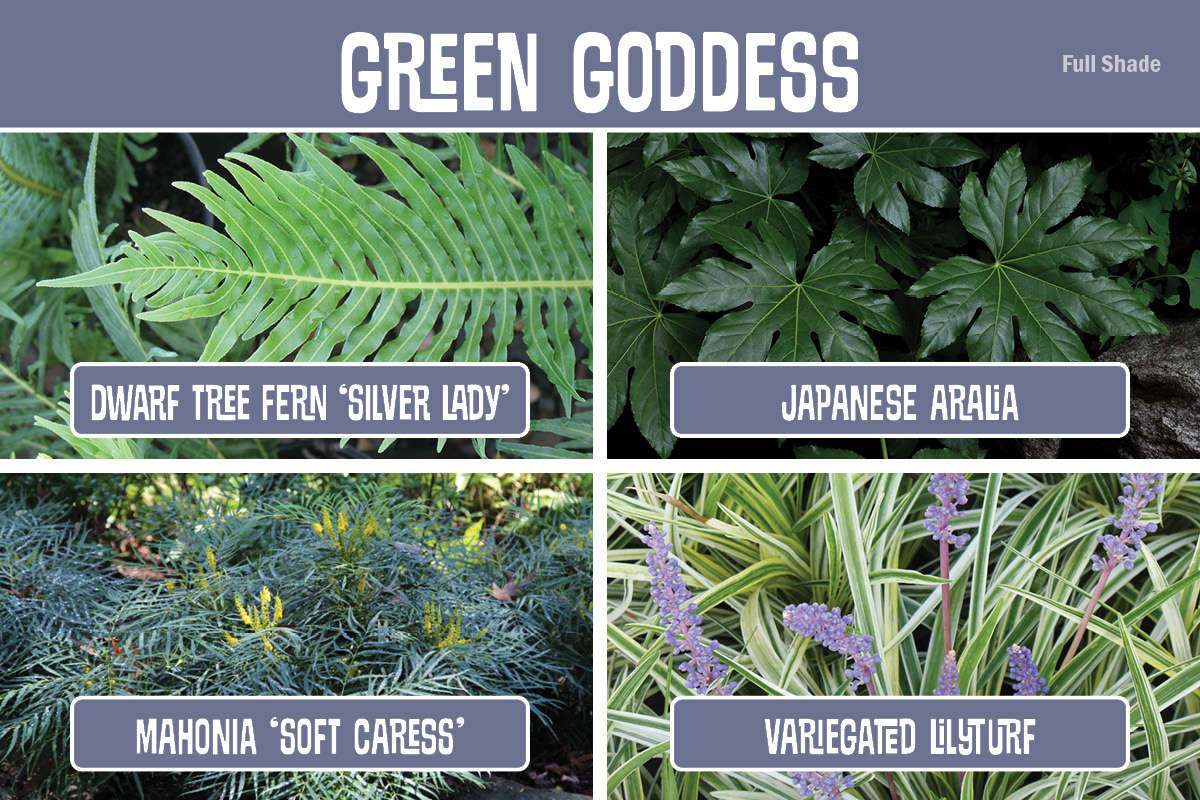 Green Goddess
(Full Shade)
Dwarf Tree Fern 'Silver Lady'
A perfect accent where a little height is needed in garden beds or containers. This herbaceous fern grows symmetrically with a crown of fronds atop a slender trunk that eventually reaches three feet high.
Japanese Aralia
Popular in shade gardens, the large, shiny, palmate leaves decorate this evergreen shrub. Clusters of small, white flowers make their appearance in fall. Because of its height, it's well-suited for a background plant.
Mahonia 'Soft Caress'
Get two seasons of flowers with this evergreen shrub that boasts an airy, spreading habit and blooms short spikes of yellow flowers in spring and fall. The flat, fern-like foliage is included here to provide contrast to the large leaves of the Japanese Aralia.
Variegated Lilyturf
Evergreen perennial grows with a grass-like, clumping habit. An abundance of deep purple flowers on long spikes amid variegated, strap-like foliage summer through fall.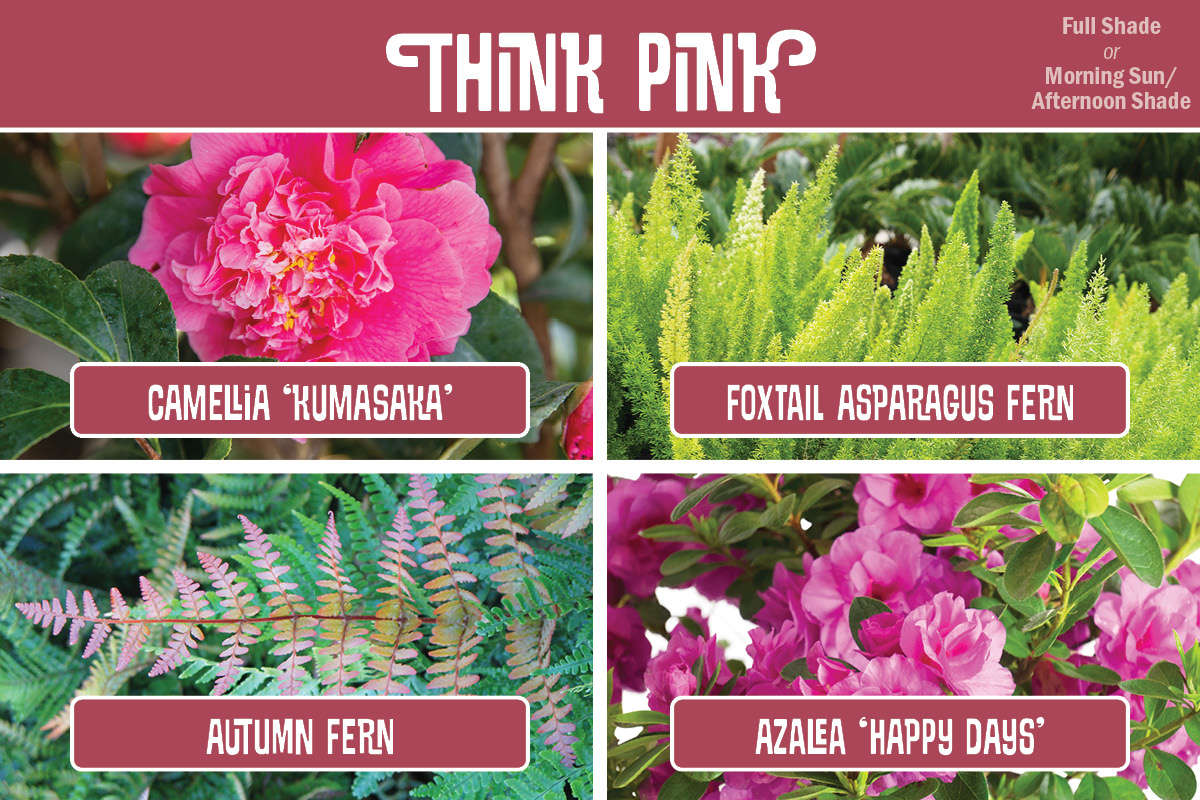 Think Pink
(Full Shade or Morning Sun/Afternoon Shade)
Camellia 'Kumasaka'

This camellia has evergreen, glossy, dark green foliage that nicely contrasts bright, rose pink, double bloom flowers from winter to mid spring. It's nice to have blooms in winter.
Foxtail Asparagus Fern
The fluffy, needle-like, bright semi-evergreen foliage has a unique texture. Inconspicuous white flowers on stems appear in spring, followed by bright red berries.
Autumn Fern
Semi-evergreen fern provides wonderful seasonal color variation. In spring, new fronds are copper, pink and yellow changing to green in summer, followed by bronze in fall.
Azalea 'Happy Days'
The evergreen mounding habit of this cheerful azalea produces an abundance of violet, double blossom flowers throughout spring. Plant in containers, borders or as an accent.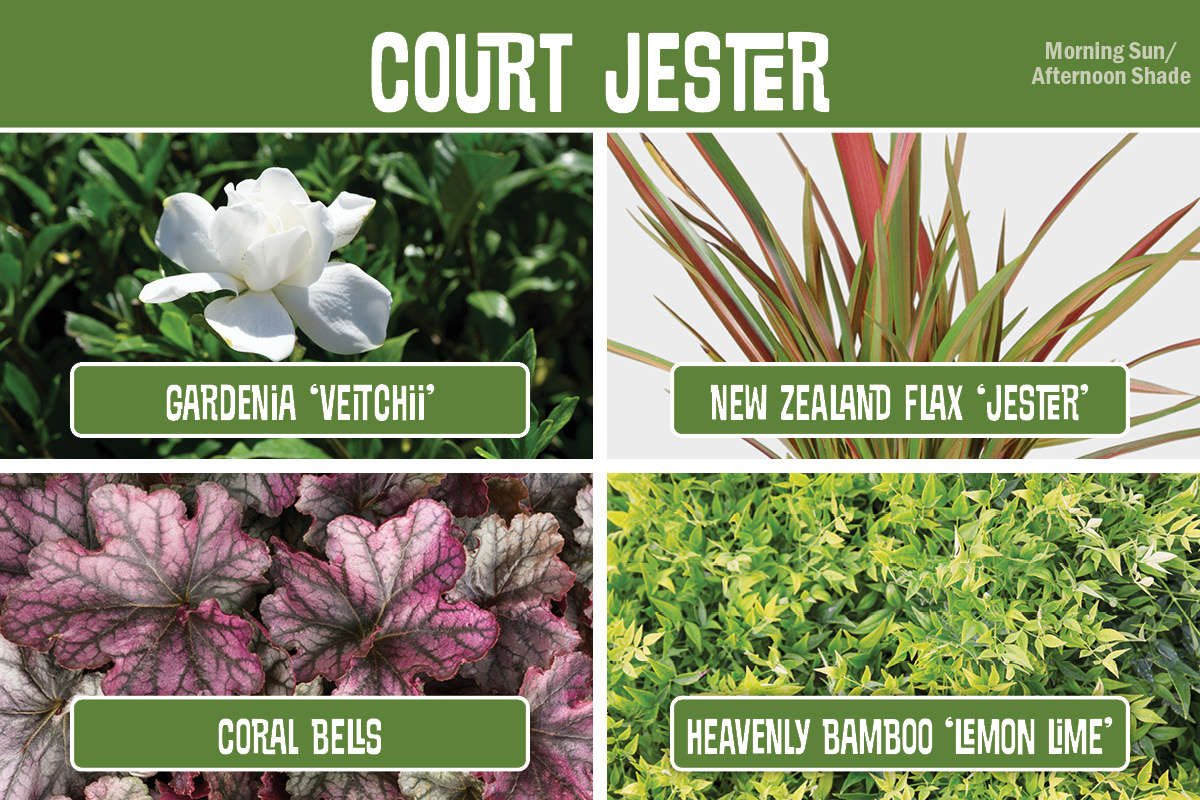 Court Jester
(Morning Sun/Afternoon Shade)
Gardenia 'Veitchii'
This variety has glossy, dark green foliage that provides contrast to scented, white, double blooms that appear spring through summer. Plant in containers or as an espalier in that shady reading spot so you can enjoy its famous fragrance.
New Zealand Flax 'Jester'
'Jester' is an evergreen perennial with long, wide, strap-like leaves that stand up structurally around rounded shrubs. They make such great focal points.
Coral Bells
We selected this evergreen perennial with ruffled leaves to incorporate a new leaf size and texture. There are a number of colors available. Purple works really well with Heavenly Bamboo 'Lemon Lime'. Bell-shaped flowers bloom in spring. Their size makes them perfect for borders.
Heavenly Bamboo 'Lemon Lime'
A bright spot for a shady garden, 'Lemon Lime' is evergreen and has an open, airy habit. New growth emerges lime green, aging to dark green. Planted next to dark green, red, or purple foliage makes this choice the perfect focal point.