Twining & Climbing Vines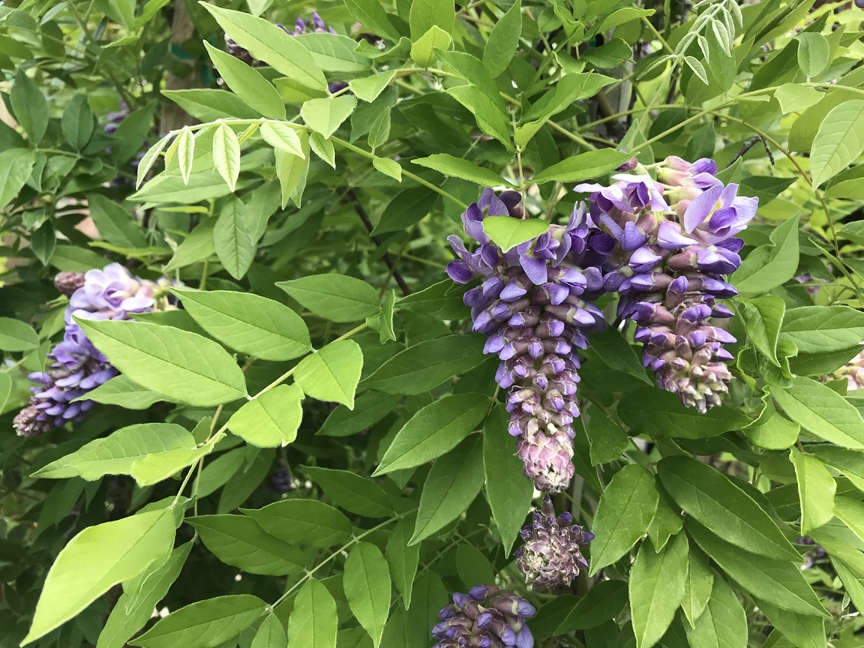 Fine Vines
A vining, twining plant could be the perfect fit for an area in your garden. Vines add beauty, provide shade, invite pollinators, hide fences and walls—they can basically do it all! Read on for eight vine recommendations; four of the vines are self-directed about how they grow, and the remaining varieties will need a stronger trellis to keep them in place and growing in the right direction.
Passion Fruit
We can't say enough good things about this vine: the flowers are picture perfect, the leaves are beautiful, and there is even fruit—purple, oval fruits with bright orange, citrus flavored pulp ripen in summer and fall—providing nearly year-around interest. Passion Fruit is semi-deciduous, will climb up to thirty feet, and can take full sun. The term "riot of color" was created with the Passion Fruit vine in mind.
Star Jasmine
This evergreen spreading shrub has lustrous dark green leaves and highly fragrant clusters of white flowers spring to early summer, reblooming until fall. Attractive to bees. Plant as a groundcover, vine, or in containers. Provide support if growing as a vine. Grows up to 30' and thrives in full sun to partial shade.
Black-Eyed Susan Vine
Offering warm-colored blooms with a delightful dark center button, shown to brilliant effect with dark green leaves, this vine will create a soothing, welcoming area in your yard that is perfect for your Secret Garden spot. The tendrils easily attach to any number of trellis choices, as it doesn't require a strong support. It can grow to 10' and likes full sun or morning sun/afternoon shade.
Pink Jasmine
Clusters of rosy pink buds appear late winter to spring, opening to fragrant, white, star-shaped blooms. Train this evergreen vine along a fence or trellis near a patio where fragrance can be appreciated through the seasons. Deer resistant. Can grow up to 20' long and likes full sun or morning sun, afternoon shade.
Creeping Fig
This amazing vine will grow all by itself up walls and rocks. Creeping Fig is ideal for those who are enchanted by foliage, as this option is renowned for stunning leaves. Ideal for shaded walkways and under covered patios, this evergreen vine is easy to care for and can stretch up to thirty feet if desired.
Pink Bower Vine
Showy and fragrant, this vine that can grow up to thirty feet tall, and the flowers and leaves will make an outstanding addition to your garden and yard. The Bower Vine has glossy green foliage (available in a variegated variety, too, image shown) and will stun with pale pink, magenta-throated blooms summer through fall.
Carolina Jessamine
Talk about getting all your vine needs in one package! This vine has it all. It is fast-growing and evergreen. The stunning bright yellow, trumpet-shaped blooms last from winter to early spring and will attract butterflies into your garden. The Jessamine grows to 20 feet high and is a welcome addition to any deer resistant garden.
Wisteria
Wisteria's showy flowers in spring and early summer are unmatched, and the trunk is beautiful to look at too. The Wisteria will need the strongest support and pruning of any vine, but it is well worth it. Wisteria needs very little water or fertilizer once established, and grows at a healthy, moderate rate. Since it can grow up to thirty feet, it's the ideal choice for outside sitting and dining areas to provide shade and beauty with classic Mediterranean style.