Reimagine Your Landscape: Mediterranean Design

The Mediterranean Landscape
The waterwise Mediterranean gardens have an informal style, with elements of stone, iron, and plants that are well-suited to our climate. Create year-round interest with a variety of leaf sizes, color, and texture. Designed to include more waterwise plants and irrigation efficiency.

Our plant lists are a small sampling of varieties to create a Mediterranean Landscape. Check with your nearest Green Acres Nursery & Supply to browse the full selection.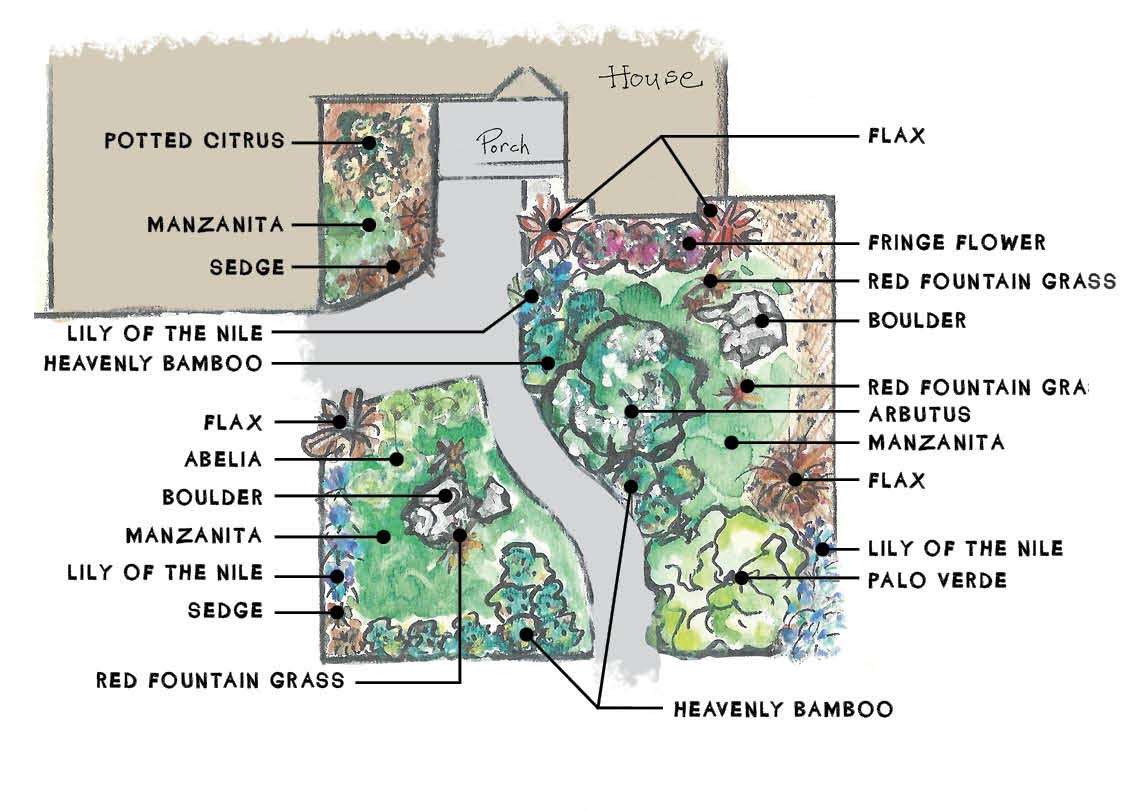 Use drip irrigation where possible.
Place trees on a separate valve with soakers or bubblers to allow for deep, infrequent watering.
Hydrozone: group plants together that have the same water needs.
Install MP Rotator nozzles to improve efficiency when watering lawns.
Use a timer with a weather sensor to water only when needed.
Mulch with a 3" layer to reduce evaporation up to 70% and to control weeds.
TREES
Arbutus 'Marina' (multi-trunk)
Crape Myrtle
Palo Verde 'Desert Museum'
SHRUBS
Fringe Flower 'Chang Nian Hong'
Heavenly Bamboo 'Gulf Stream'
Abelia 'Kaleidoscope'
PERENNIALS
Lily of the Nile 'Peter Pan'
Flax 'Jack Spratt'
Purple Fountain Grass
Sedge 'Everillo'
GROUNDCOVER
Manzanita 'Emerald Carpet'
Shore Juniper 'Blue Pacific'
TREES
SHRUBS
Olive 'Little Ollie'
Indian Hawthorn
Lavender Cotton
Wild Lilac
PERENNIALS
GROUNDCOVER
Manzanita 'Emerald Carpet'
Grevillea 'Coastal Gem'