Fall Gardening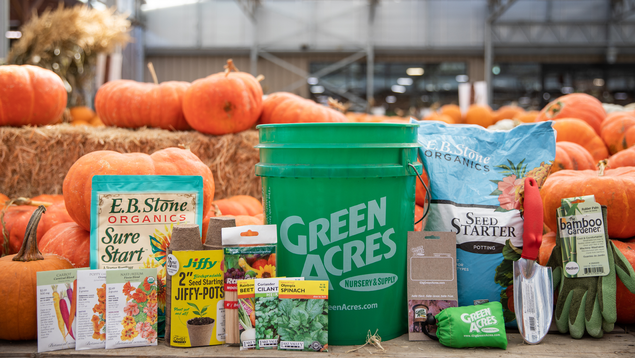 Fill Up A Bucket!
If you're thinking about growing a vegetable garden this fall or would like to gift someone with the perfect fall gardening kit, we have some great suggestions for an easy, all-in-one growing kit, that is sure to please green thumbs everywhere—from beginners to seasoned gardeners.
Fall Gardening Kit
Green Acres Nursery & Supply Garden Bucket: Our all-purpose, five-gallon bucket comes in handy for all kinds of tasks around the garden from hauling dirt to pulling weeds.
Gloves: Our nurseries offer a large selection of gloves, depending on the task at hand (pun intended!). The Bellingham® Bamboo Gardener™ gloves (pictured) are as comfortable as they are durable and made from seamless bamboo nylon.
The Corona® Comfort Trowel is one piece with a lightweight and durable aluminum alloy head, and cushioned, non-slip grips for comfort.
E.B. Stone™ Organics Seed Starter Mix: A lightweight potting mix blended for starting all types of seeds and for rooting cuttings.
E.B. Stone™ Organics Sure Start: Natural, organic fertilizer formulated to develop strong roots and sturdy growth in any plant.
Jiffy® Round Peat Pot 3": Starting new plants from seed is easy with these preformed pots that can go straight from indoors to the ground without unsettling young roots.
Seed/Plant Labels: Easily label all your seeds and plants for quick, reliable identification. Wood, zinc, copper and plastic options available.
Seeds: Our nurseries offer a huge selection of heirloom and hybrid varieties for you to browse so you can find old favorites and new varieties of vegetables, herbs, and flowers.
Green Acres Nursery & Supply Reusable Bag: Strong, durable, and bright green—these reusable bags come in handy in the garden, at the nursery, and around the house. Folds into a handy carrying pouch.
Green Acres Nursery & Supply Gift Card: Everyone enjoys receiving a gift card to select something new for the garden when the next season rolls around!
Fall Gardening Kit Collection