Outdoor Living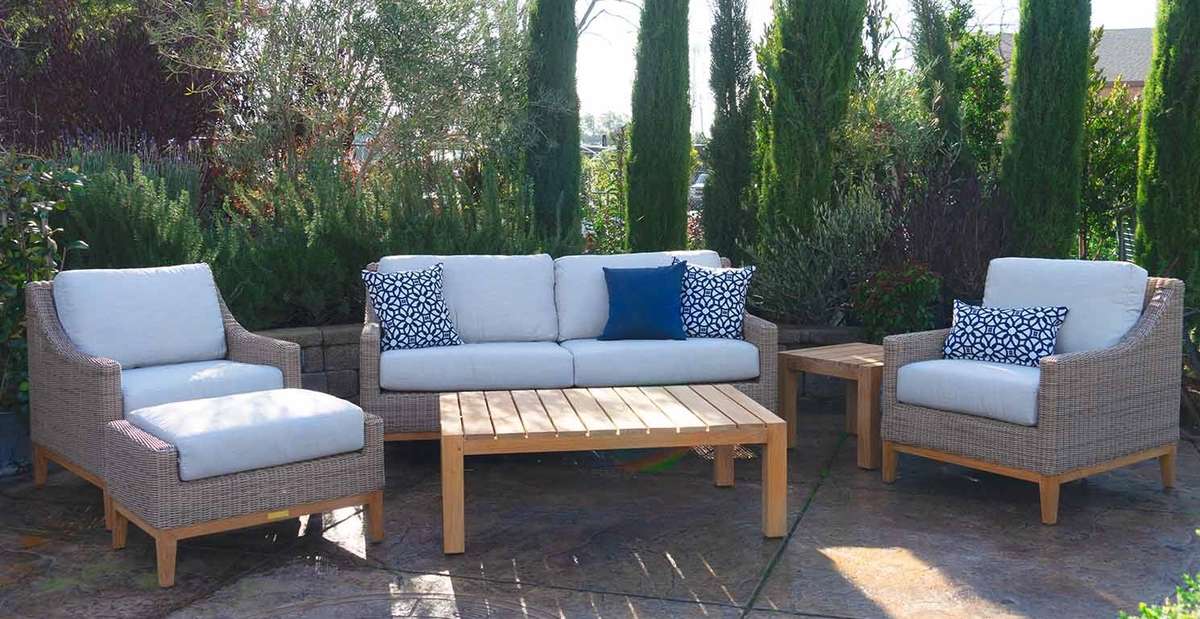 Creating an Outdoor Room for Beginners
If you're designing an outdoor space for a new home or you're just ready for a backyard refresh, you've come to the right place. We'll help you find solutions for your outdoor area that will allow you and your family to spend more time enjoying the outdoors and each other; imagine grilling dinner, relaxing on new furniture, or gathered around a fire table.

We offer superior brands and a vast selection of aluminum, wicker and teak dinettes and lounge seating. Choose a set in store or customize one for your outdoor space. We feature brands such as Castelle®, Gensun®, Kingsley Bate™, Patio Renaissance, Tropitone® and more.

If you haven't quite found your vision for the outdoor space, read on for a few timely tips to help you focus in on a solution that will work for your style and budget.

Visit our Citrus Heights, Elk Grove, Folsom, and Rocklin stores to see the latest selections and talk with our Outdoor Living team about making your dream a reality.
Define Your Space
Before you get out to the stores, it's important that you define your space. Is this a spacious area for a large dining set? Or are you trying to create a cozy nook for reading on warm summer mornings?
Design Tip: We're here to help. Bring in a photo of the space and rough measurements to our ODL team. We can help you decide what type of furniture would fit best.
How Will You Use The Space?
Do you have a large family and enjoy eating al fresco? You might need a long dining table with a built in leaf. If you like heading outside after kids are in bed, maybe you will enjoy a comfortable love seat and fire table.
Design Tip: : Write down three ways you most often use your backyard, or dream about using your backyard. We can help direct you to pieces that you will love based on your interests and space.
Are You Designing For Multiple Areas?
Do you have multiple outdoor areas in your yard? Different areas might allow for different seating arrangements. We offer a wide variety of seating styles and finishes including teak, aluminum, cushioned, woven wicker, and more.
Terms to Know:
Deep Seating means you have plush large cushions for chairs, sectionals, settees, and more.
Dining Sets range from four people, up to twelve people for table entertaining.
What Is Most Comfortable To You?
What looks good while shopping online might not be the most comfortable. Furniture is a lot like buying shoes or clothing. Do yourself a favor and try it out first to see how it fits you. Many times customers come in with one set in mind and after trying out all the options, they decide on something completely different. Why? Because of the comfort factor. Our Outdoor Living departments have a large selection of items on display so you can try all the options during your visit, before buying.
Design Tip: If you are shopping as a couple, we recommend that you come in and try out options together. Something as simple as height differences can make a big difference in how comfortable a set feels and we want to make sure the solution you take home is a good fit for everyone in the family.
Fabric Grade and Quality Matter
When shopping for sets, pay attention to the differences in the grade of the fabric. Be sure to do your homework so that you know the differences and understand that the quality of materials can impact the price you pay. Our team can walk you through the many options to find fabric grades to meet your needs.
Did You Know? You may find sets elsewhere that appear to be less expensive, but they may be using an inferior grade of steel, and a different finishing process, along with smaller and thinner cushions. The brands our stores carry are reliable and able to handle outside elements for years to come because they have been constructed with excellent craftmanship. Stop in, sit for a while, and feel the difference for yourself.