Start with the Basics, Part II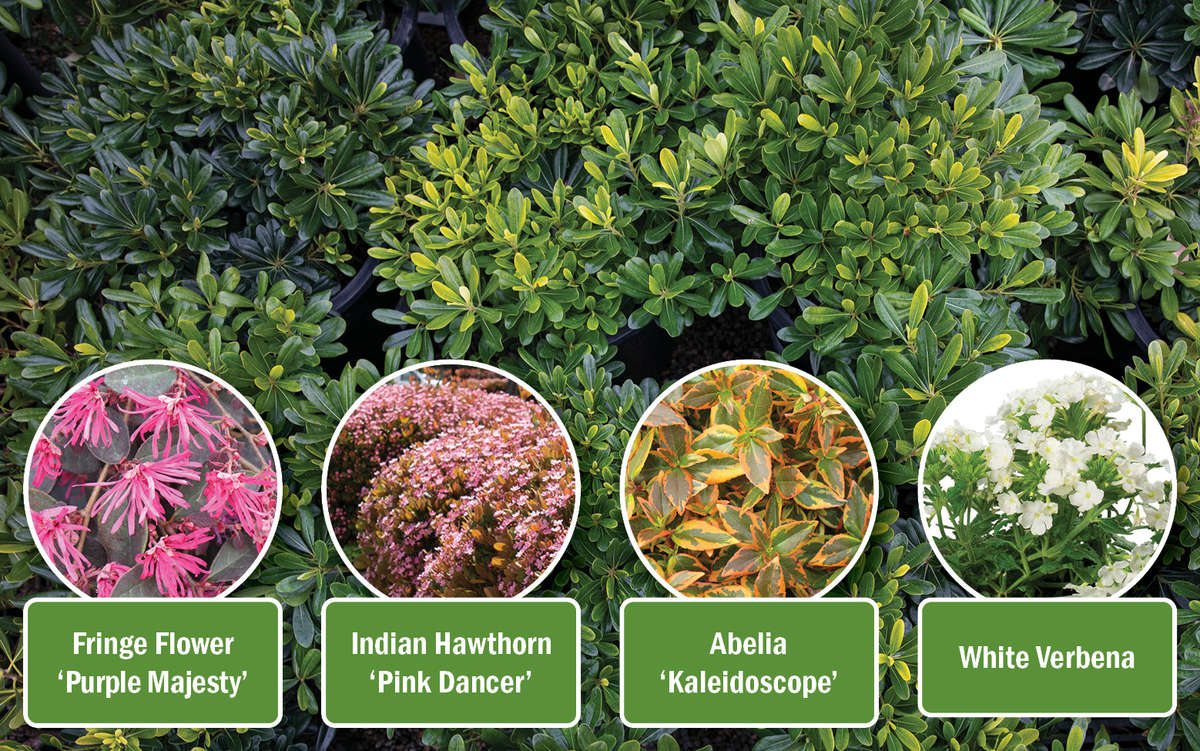 Complement with Companions
Welcome to Part II in our series about basic landscape shrubs. We've selected some of our top shrub picks that perform well in our area year-round—and then matched them with companion options that will help you personalize your landscape design.

The plants in our combinations share similar needs for sun and water, and we've created selections that include various heights so that you can layer your groupings from high to low. Remember to plan for mature sizes when planting; you'll save money, water, and labor in the long run.
Escallonia 'Compacta'
Evergreen shrub grows in a low, mounding habit
Clusters of small, pink, tubular flowers bloom late spring through summer
Use as a low hedge, border, groundcover, or accent
Attractive to bees and butterflies
3' tall | 3' spread
Full sun or morning sun/afternoon shade
Planting Tip:
While Escallonia can thrive in full sun, this particular combination of plants prefers morning sun/afternoon shade. The Camellia and Viburnum will provide height in the background or as accents, and Sweet Woodruff will fill in as a lush groundcover.
Heavenly Bamboo 'Gulf Stream'
Compact, evergreen shrub with a mounding habit
Foliage emerges red, with beautiful red and purple colors in fall
Small white flowers in spring or summer, followed by berries
Use as a hedge, screen, or specimen plant
Waterwise and deer resistant
3'-4' tall | 1'-2' spread
Full sun or morning sun/afternoon shade
Planting Tip:
Another morning sun/afternoon shade combination, this group offers form and fragrance. The Privet can be planted as the background shrub, or trained as a topiary accent. The Gardenia and Heavenly Bamboo are perfect companions to offer variety in leaf color and texture. The pink, purple, and white flowers will bloom spring through summer. Enjoy!
Mock Orange 'Wheeler's Dwarf'
Evergreen shrub with a compact, mounding habit
Dark green, glossy foliage
White flowers, with an orange blossom scent, bloom in early spring
Plant poolside, in borders, containers, or as hedges
2'-3' tall | 4'-5' spread
Full sun
Planting Tip:
Here's a full sun combination that looks cool. The beauty of this collection is that the leaf colors and textures will keep your garden interesting all year long. Fringe Flower can stand tall in the background, and you can group Mock Orange, Indian Hawthorn and Abelia in the foreground. The Verbena will bloom spring through summer as a groundcover that invites butterflies.
Purple Hopseed Bush
Evergreen shrub with an upright, mounded habit
Bronze-red foliage turns a deeper red in winter
Pink, papery seed pods form spring to summer
Plant for screening, espalier, hedge, or border
Waterwise and deer resistant
10'-15' tall | 10'-15' spread
Full sun
Planting Tip:
Purple Hopseed Bush is a perfect choice for a full sun screen, or to cover a fence. Planted behind the California Wild Lilac and Golden Euonymus, the Hopseed Bush will make leaf colors pop. Choose your favorite color of Zonal Geranium—you can't go wrong. A dwarf Ornamental Pomegranate adds something unique to this combination.